Reading Time:
7
minutes 
If you believe October is all about the costumes and the candy, you've come to the right place. We've rounded up a list of Halloween events from trick or treating to costume contests and more happening this month in Oklahoma City and beyond that are all about the tricks and treats. So don't wait until Oct. 31 to get that costume on, celebrate all month long with these trick-or-treat events happening throughout the metro! Want more fall fun? See all our fall fun guides.
(This guide was last updated Oct. 22, 2020. This is a working list so please check back often for updates. If you know of an event or festival you'd like to see included, please email the details to calendar@metrofamilymagazine.com)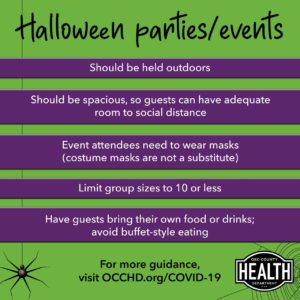 Oct. 1 – 7
Pumpkin Drive at the Oklahoma City Zoo (2101 NE 50th St). Bring a pumpkin larger than your head and receive FREE same-day admission to the Zoo. The donated pumpkins will be used to decorate the Haunt the Zoo trail. 9 a.m. – 5 p.m.
Oct. 16 & 17
Tombstone Tales in Enid (201 W Owen K Garriott, Enid) features a tractor-drawn hayride tour through the Enid Cemetery. Characters who once lived in Oklahoma will appear from behind tombstones to share the tales of their historical journeys. $15. 6:30 – 8:30 p.m.
Oct. 16 – 31
HallowMarine at the Oklahoma Aquarium (300 Aquarium Dr, Jenks) features an indoor trick-or-treat trail, games, inflatables, PeeWee Pirate Zone, treasure hunt and mermaid and pirate dive shows plus, all the exhibits are open. Kids (3-12), $13.95; adults, $17.95; kids (2 & under), free. Friday-Sunday, 6-8:30 p.m.
Oct. 10 – Nov. 1
Haunt the Zoo at the Oklahoma City Zoo (2101 NE 50th St) features more treats, extended dates and new surprises. New trick-or-treating methods will be in place to ensure a safe and memorable experience for our guests, staff and volunteers. Costumes encouraged. Adults can dress up too but nothing too scary, please. Zoo admission applies. Trick-or-treat bags, $7; members, $6. Saturday & Sunday, 9 a.m. – 4 p.m.
Oct. 21 – 24
Permian Monster Mash at Sam Noble Museum (2401 Chautauqua Ave, Norman) features special activities such as a Dino Egg iSpy, take-home crafts, a photo booth and more. All activities are free with general admission, and visitors are encouraged to wear their family-friendly costumes. Advanced registration for admission is required. Wednesday & Saturday, 9 a.m. – 5 p.m. & Thursday, 9 a.m. – 8 p.m.
Oct. 23
FREE OKER Trick-or-Treat Drive-Thru at Oklahoma ER & Hospital (15103 N Penn Ave, Edmond) features a drive-thru trick or treat. Staff will be dressed up in the parking lot handing out candy, toys and surprises. 6-8 p.m. 
Oct. 24
---
Steampunk Fall Celebration at the National Cowboy & Western Heritage Museum (1700 NE 63rd St) features a variety of themed activities including a robot maker space, Steampunk crafts and more. Free with admission. 10 a.m. – 4 p.m.
---
Boo on Bell in downtown Shawnee (Main St & Bell Ave, Shawnee) features a drive-thru trick-or-treat and virtual costume contest. See website for a detailed schedule.
Boo-tanical Night in the Gardens at Myriad Gardens (301 W Reno Ave) features trick-or-treat stations in the children's garden. There will also be a take and make craft available. Costumes encouraged. This event is by pre-registration only and priority will be given to garden members. Members, $5; nonmember,$10. 6-8 p.m.
Oct. 25
FREE Candy "CAR"avan at Chapel Hill United Methodist Church (2717 W Hefner Rd) features a drive-thru decorated car and costume contest. Each child will receive a treat bag from a masked and gloved volunteer. 4-6 p.m.
FREE Drive-Thru Fall Festival at Church of the Servant (14343 N MacArthur) features a drive-thru, trunk-or-treat activities with fun treats. Cruise through and see dozens of decorated trunks. Kids will receive a goodie bag at the end filled with candy, trinkets and more. Non-scary costumes are welcome. 6 – 8 p.m.
---
Oct. 23 – 30
Storybook Forest at Arcadia Lake (7200 # 15th St, Edmond) features a fun, not-scary trail filled with roaming characters. Additional activities include a campfire, concessions and storytime. $12. 5:30 – 8:30 p.m.
---
Oct. 28
Halloween at the Drive-In at Winchester Drive-In (6930 S Western Ave) features a screening of Monsters, Inc. Costumes encouraged. A cash bar will be available. Benefits Infant Crisis Services. $100 per car; VIP, $200. Doors open at 6 p.m., movie starts at 7 p.m.
Oct. 29 – 31
FREE Walmart Spooktacular Drive-Thru (various locations) features a trick-or-treat drive-thru event at select stores. Thursday & Friday, 1-7 p.m.; Saturday, 11 a.m. – 5 p.m.
Oct. 30
FREE Trunk or Treat at Casady Square (9207 N Penn Ave) features truck or treating, games and a costume contest. 3-5 p.m.
FREE Trunk or Treat at Highland Baptist Church (2425 SE 4th St) features a family-friendly evening with lots of candy and fresh popcorn. Families will have the opportunity to walk from trunk to trunk to get candy. As a safety precaution, all our volunteers will be wearing gloves and multiple hand sanitizer stations will be available. 6:30-8:30 p.m.
FREE Trunk or Treat at Hope Connection Church (8309 S Santa Fe Ave) features trunk or treating, apple cider and popcorn. 6:30-8:30 p.m.
CANCELED – Trail of Horrors at Little River Park (700 SW 4th St, Moore) features a haunted trail through the woods of Little River Park with terror lurking around each corner. Best suited for kids 12 and up. Children 11 or younger must be accompanied by an adult. Tickets must be purchased in advance. $8. 8 – 11 p.m.
Oct. 30 & 31
Halloween Train at the Oklahoma Railway Museum (3400 NE Grand Blvd) features a 40-minute Halloween train ride, mini-golf course, scavenger hunt and costume contest. Costumes encouraged. Train rides: 13 & up, $12, kids (3-12), $5; kids (under 3), free. 9 a.m. – 5 p.m.
Ghost Stories Tours at the Pawnee Bill Ranch and Museum (1141 Pawnee Bill Rd, Pawnee). Guides will lead guests through the park telling spine-tingling, ghostly tales about Oklahoma, the surrounding area and the Pawnee Bill Ranch. $5. Best suited for ages 8 & up. 6:30-9 p.m.
Oct. 30 – Nov. 1
Godzilla at the Noble Theater (415 Couch Dr) features a special Halloween weekend screening of Monsters & Murderous Maidens: Japanese Cult Cinema. In order to ensure social distancing in the Noble Theater, tickets and seating capacity are limited. Masks are required in the theater and throughout the museum. Adults, $10, kids (13-18), $8; kids (12 & under), $6. Showtimes are: Oct. 30 at 5:30 p.m., Oct. 31 at 2 & 5:30 p.m. & Nov. 1 at 12:30 & 3 p.m.
Oct. 31
FREE Halloween Day Activities at Chisholm Creek (13230 Pawnee Dr) features storytime, live performances, an interactive, Halloween-themed science show from Mad Science and a scavenger hunt (while supplies last). 9 a.m. – 2 p.m.
Halloween on the Green at Will Rogers Gardens (3400 NW 36th St) features a trick-or-treat trail, a sugar skull craft, face painting and more. Preregister. All ages welcome. $5. 10 a.m. – 2 p.m.
---
Fall Festival at Rustic Roots (105340 Greer Rd, Lamont) features live music, trunk or treating, food trucks, a costume contest and more, in addition to the pumpkin patch and farm activities. Families can enjoy hayrides, a petting zoo, 10-acre corn maze, barrel train and a hay fort. $10, half price if in costume. 10 a.m. – 4 p.m. 
---
FREE Spooktacular in Downtown El Reno (Main St, El Reno) features trick or treating, games, photo booths and more. 11 a.m. to noon.
Scissortail Treat Trail at Scissortail Park (655 S Robinson Ave) features candy, music, family-friendly Halloween characters, pumpkin painting, plenty of photo-op areas and food vendors along the Promenade. Treat Trail booths will each have a chute to send their treats into bags for a contact-free exchange. All booth workers will wear masks and use gloves while operating the treat chute. Masks are required for guests inside the playground to participate. $5; members, free. 11 a.m. – 4 p.m.
Halloween on 9th Street at Factory Obscura (25 NW 9th St) features outdoor performances, live music, interactive activities throughout the day including an egg hunt for treat-filled eggs and a costume contest. MIX-TAPE at Factory Obscura will be open for timed ticketing with COVID safety requirements. Free to attend. Admission to Factory Obscura: adults, $17; kids (4-12), $12; kids (3 & under), free. 11 a.m. – 11 p.m.
FREE Halloween After Noon at the Edmond Historical Society & Museum (431 S Blvd, Edmond) features come-&-go crafts, games and candy. Social distancing will be practiced and masks are required. Noon – 4 p.m. Not ready for a public event? They also offer Halloween craft and game kits for free. Pick-up between 4:30 – 6:30 p.m. on Friday, Oct. 30. Preregister for your kit.
---
Spook and Roll Halloween Party at Skate Galaxy (5800 NW 36th St) features a costume contest with prizes, games, festive decorations, music and more. Costumes encouraged. Afternoon session, $10; evening session, $15 ($12 if in costume). 1 – 4:45 p.m.; 7 p.m. – midnight.
---
CANCELED – FREE Trick or Treat at The Shoppes at Northpark (122nd & N May) features outdoor trick or treating. Representatives from select stores will be handing out candy on Halloween. Costumes welcome. 3 -5:30 p.m.
---
FREE Drive-Thru Trunk or Treat at Edmond First Baptist Church (1300 E 33rd St, Edmond) features a drive-thru trunk or treat with decorated trunks and several stops to receive plenty of candy. Volunteers will wear gloves and be taking proper safety precautions to keep everyone safe. Costumes encouraged but not required. 4-6 p.m. 
---
FREE Drive-Thru Trunk-or-Treat Spectacular at St. Augustine of Canterbury Episcopal Church (14700 N May Ave) features decorated trunks and candy. A bag of candy will be given to each participant by a masked and gloved volunteer at the end of the drive-through experience. Non-candy bags will also be available. 4-6 p.m.
FREE City of Moore Drive-thru Trick or Treat at The Station (700 S Broadway Ave) features a drive-thru, trick-or-treat experience. Representatives from local businesses will hand out packaged candy and treats to families in their vehicles. Costumes welcome. CDC protocols will be followed and face coverings are recommended. 6:30-8:30 p.m.
Find even more Halloween fun including trick-or-treating alternatives with our Halloween event guides filled with things to do all month long!