Reading Time:
4
minutes 
Looking for ways to extend the fun and get more mileage out of those costumes? Here are some exciting, family-friendly events happening every day in the Oklahoma City metro in the week leading up to Halloween.
For even more fall fun ideas, check out our  Fall Fun Round-Up.
Through Oct. 31
Ghosts, ghouls, werewolves and vampires alike are invited to enter our Halloween Costume Contest!
Submit a photo
of your child or your whole family dressed in spooky-or-not Halloween costumes for a chance to win great prizes. Photos accepted through midnight on Halloween. Be sure to vote for your favorites, Nov. 1-4.
Oct. 23
Curiosiday: Spider Spectacularat the Sam Noble Museum (2401 Chautauqua Ave) features a day of sticky, stretchy and spooky fun! Enjoy crafts and a spider hunt around the museum to learn about which spiders crawl in Oklahoma. This is a bilingual (English and Spanish) program. Costumes are welcome. Free with admission. 10:30 a.m.-5 p.m
Boo-tanical and Costume Contest at Pumpkinville at Myriad Gardens (301 W Reno Ave) features trick-or-treat stations in the children's garden. There will also be a take and make craft available. Costumes encouraged. This event is by pre-registration only and priority will be given to garden members. Members, $5; nonmember,$10. 6-8 p.m.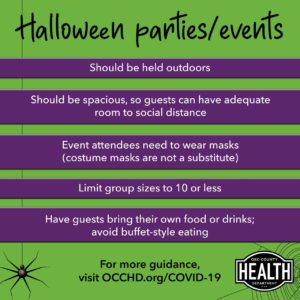 Oct. 23 – 30
Storybook Forest at Arcadia Lake (7200 # 15th St, Edmond) features a fun, not-scary trail filled with roaming characters. Additional activities include a campfire, concessions and storytime. $12. 5:30 – 8:30 p.m.
Oct. 23-24 & 30-31
Haunt the Zoo at the Oklahoma City Zoo (2101 NE 50th St) features 13 candy stations located along the Haunt the Zoo trail. Volunteers will distribute candy and tasty snacks through 8-foot "treat tubes" into trick-or-treat bags from a safe distance. Guests can also visit themed booths displaying an array of family-friendly decorations and elaborate props, perfect for capturing photo moments. Costumes encouraged. Adults can dress up too but nothing too scary, please. Zoo admission applies. Trick-or-treat bags, $7; members, $6. Saturday & Sunday, 9 a.m. – 4 p.m.
Oct. 25
FREE Brick or Treat in Bricktown (Reno Ave & Mickey Mantle Dr) features trick or treating at Bricktown businesses, popular characters and local mascots, spooky tunes and more. For ages 14 & under. 4-7 p.m.
Oct. 27
FREE Fall Festival of Treats at St Luke's UMC Edmond (900 N Sooner Rd, Edmond) features a fun, safe, and sweet night with trunk or treating. 6-7:30 p.m.
Haunt the Zoo: All Grown Up at the OKC Zoo (2101 NE 50th St) features unique experiences such as a Haunted Herpetarium, Haunted Dino Safari and karaoke, created around the event's theme, Time Travel. Costume encouraged.  Event attendance is limited to ensure social distancing. $30 & up. 7-11 p.m.
Oct. 29
FREE Trunk or Treat at Hope Connection Church (8309 S Santa Fe Ave) features decorated trunks handing out candy, refreshments and more. 6:30-8:30 p.m.
Spook and Roll Halloween Party at Skate Galaxy (5800 NW 36th St) features a costume contest with prizes, games, festive decorations, music and more. Costumes encouraged. $15 ($12 if in costume). 7 p.m. – midnight.
Oct. 29-30
Edmond Historical Ghost Tours in Downtown Edmond (19 N Broadway, Edmond) features a tour of the Downtown area where many founding fathers of the city lived and worked. Tour guides dressed in the late 1800s and early 1900s period costumes will be on the tour to play the parts of the deceased historical figures and bring them back to life. Attendees can also enjoy free horse-drawn wagon rides, s'more fire pit and visits from the Edmond Fire and Police Departments. $10. 5-8 p.m.
Oct. 30
Halloween on the Green at Will Rogers Gardens (3400 NW 36th St) features fall-themed crafts including sugar skull decorating, face painting, craft, trick-or-treating and more. Preregister. All ages welcome. $5. 9 a.m. – noon.
FREE Children's Halloween Festival at Oklahoma Shakespeare (2920 Paseo) features a free family event with a Classics performance for kids, trunk-or-treat, live music, mask painting and more. 10 a.m.-3 p.m.
Steampunk Fall Celebration at the National Cowboy & Western Heritage Museum (1700 NE 63rd St) features a variety of themed activities including a robot maker space, Steampunk crafts and more. Free with admission. 10 a.m. – 4 p.m.
FREE Spooktacular in Downtown El Reno (Main St, El Reno) features treats, games and fun for the whole family. 11 a.m. – noon.
Scissortail Treat Trail at Scissortail Park (655 S Robinson Ave) features a safe, outdoor, limited-access Treat Trail. Enjoy the festive Treat Trail inside the Scissortail Park playground with music, family-friendly Halloween characters, plenty of photo-op areas and food vendors along the Promenade. Treat Trail booths will each have a chute to send their treats into bags for a contact-free exchange. $5; members, free. 11 a.m. – 5 p.m.
FREE Halloween at the Museum at the Edmond Historical Society & Museum (431 S Blvd, Edmond) features come-&-go crafts, games and candy. 1- 4 p.m.
Spooksville at Yukon Community Center (2200 S Holly Ave, Yukon) features the Mutt Masquerade dog costume contest, children's costume contest, carnival, and haunted house.  Carnival activities include lots of candy, games, and various Halloween-themed crafts. Costumes encouraged. Kids, $3; adults, free. 2-6 p.m.
FREE Trick or Treat at The Shoppes at Northpark (122nd & N May) features indoor trick or treating. Representatives from select stores will be handing out candy. Costumes welcome. 3-5 p.m.
Oct. 30 & 31
Halloween Train at the Oklahoma Railway Museum (3400 NE Grand Blvd) features a 40-minute Halloween train ride, mini-golf course, scavenger hunt and costume contest. Costumes encouraged. Train rides: 13 & up, $12, kids (3-12), $5; kids (under 3), free. 9 a.m. – 5 p.m.
Oct. 31
FREE Halloween Day Activities at Chisholm Creek (13230 Pawnee Dr) features live performances, an interactive, Halloween-themed science show from Mad Science and a scavenger hunt (while supplies last). 10 a.m. – 1 p.m.
FREE Trick-Or-Trail at Joe B. Barnes Regional Park (8700 E Reno Ave, Midwest City) features a safe, drive-thru-trick-or-treat experience on Joe B. Barnes Blvd. Tune your radio stations to the advertised FM station to get the full spooky effect. 1-4 p.m.
Halloween Activities at Factory Obscura (25 NW 9th St) features an illuminated Procession, costume contest and opening of the Final Doorway. All ages welcome. Outdoor activities, free; regular admission applies. 6-9 p.m.