Reading Time:
9
minutes 
If you are looking for unique gift ideas for the kids in your life, look no further! Here are some of this year's must-have gifts for all ages, from tots to teens, plus a selection of heart-warming books and gift ideas for Hanukkah! (Bonus – you could win these top gifts in our Ultimate Holiday Giveaway!)
Top Gifts for Toddlers & Preschoolers:
Play & Fold Away Treetop Tower ($219.99)
Radio Flyer's Play & Fold Away Treetop Tower is a fun new playhouse that encourages active imaginative play! The unique folding mechanism allows this to be easily stored when not in use and the carrying handle makes this the most convenient climber for your family! Kids can create their own adventures on the sturdy platform with a telescope and steering wheel. The telescope swivels and pivots while the steering wheel rotates freely. The climbing ladder allows easy entry, and the built-in slide adds to the fun! Beneath the stable platform is a secret play space that features two doors and mesh windows. The fabric canopy is removable, and the canopy poles retract into the frame when not in use. Recommended for ages 2 – 5 years.
Mobo Explorer Balance Bike by Mobo Cruiser ($89.99)
With the Mobo Explorer Balance Bike, kids can experience the thrill of riding California freestyle with the security of having two feet on the ground. As your child masters the use of the explorer you will see them go from small steps to riding with ease. With its multiple safety pads and extended frame, your child will be extra safe while learning. The cushioned premium seat accommodates children 2-6 years old. The included two-seat posts accommodate most kid sizes! As your child builds strength, balance and confidence they'll have a blast using the integrated footrest to roll in style. With never-flat tires, your child will have many years of maintenance-free fun. The explorer's sturdy frame and optimized geometry makes it stable and easy to handle. A child's first bike encourages their sense of freedom, curiosity and wonder. Let them experience that feeling in style and safety with the Mobo Explorer Balance Bike. Ages 2-6, MSRP $89.99.
RV Camper Set ($29.99)
Time to hit the road! The Green Toys™ RV Camper Set is loaded up and ready for an adventure! This colorful, 3-in-1 vehicle playset has something for everyone, featuring a pick-up truck, spacious camper, and sport boat with its very own trailer. Play with them individually, or link them all together for two feet of fun! And don't forget the accessories – two characters, two chairs, a picnic table, and a camping stove round out this 10 piece set with endless narrative play possibilities. Great for indoor and outdoor play, the super-safe design has no metal axels or exterior paints or coatings. Manufactured in the USA, made from 100% recycled plastic, no BPA, phthalates or PVC.
Frosty Friend Thinking Putty from Crazy Aaron's Puttyworld ($9.99)
Build a snowman whatever the weather. fashion a frosty friend – complete with a chocolate peppermint scent – and watch as he melts away! +3 years and older. This white scented putty smells of chocolate and peppermint. Non-toxic silicone never dries out.
Spill-Proof Washable Paint ($11.49)
Keep craft time simple and easy with the newest less mess paint innovation! Little ones can express their creativity without the hassle of clean up thanks to this set that prevents spills, drops, and messes. When changing colors, simply wipe the brush on a damp cloth to keep your palette clean. Comes with 5 paint colors that work well on most paper and dry quickly to prevent smearing.
Air Marker Sprayer ($29.99)
Have fun turning ordinary Crayola Markers into colorful spray art with the new Crayola Mini Marker Sprayer. Simply load a Crayola marker, pump it up, and pull the trigger. The Mini Marker Sprayer unleashes bursts of color and creates cool airbrush effects with the included mini stencils. The ergonomic "pistol grip" design works well for small hands, while charging and changing markers is fast and easy. Just pump, spray, and create! What's even better is that the full kit includes Crayola markers, paper, and more for a ready-to go gift right out of the box – no batteries required!
My First Math Dice ($12.99) 
Turn Early Math into a Fun Game! Designed for parents and caregivers to play together, My First Math Dice is the perfect game to build pre-kindergarten math confidence.  Choose from 3 games for educational fun. Includes a handy travel bag. Winner of a Creative Child Magazine Kid's Game of the Year, National Parenting Product Award and & Oppenheim Toy Portfolio Gold Seal Award
Top Gifts for 6-10 year olds
The Geomag Mechanics Loops And Turns Construction Set – 130pc ($39.99)
The Mechanics Gravity Magnetic Track harnesses the invisible forces of magnetism and gravity through original and surprising means. The spheres inside the circuit are set in motion by an innovative magnetic cannon that uses the force of attraction of the accelerating magnet. Gravity is the innovative evolution of the Geomag Mechanics line. Developed with expert players in mind, the new construction system is based on an innovative "gravity motor": this uses the weight of the Geomag spheres to kickstart the mechanisms and movements of the Geomag Mechanics structures. The motion is provided by the invisible forces of Gravity and Magnetism, without using electricity or batteries. The play experience is based on these fundamental principles of physics.
Creatto Light Up Moose from Thames & Kosmos ($9.95)
Make, play and display with Creatto, a unique series of Light-Up 3D Puzzle kits. The simple yet versatile building system consists of just two parts that can be quickly and easily pieced together to form countless 3D creations. Each Creatto kit includes a string of LED lights and language-independent assembly instructions for four different configurations. QR codes are also available for quick access to step-by-step tutorial videos online.
Candy Claw Machine from Thames & Kosmos ($39.95)
Build a working model of the classic claw machine — that enticing, sometimes frustrating, and always fun arcade game in which you try to grab prizes from inside the machine with a remote-controlled claw in a limited amount of time. Cranks, gears, and belts move the claw arm left and right, and forward and back. Hydraulic levers move the arm up and down and open and close the claw. A spring-loaded trap door shoots the collected candy out at you if you manage to succeed. No batteries or electricity are required — it uses only the power of your hand and the mechanical advantage of the machines built into the device. Packed with a supply of lollipops (Saf-T-Pops) and decoys (fake candy boxes) to get you started, you can also fill it with whatever small candies, toys, or other small objects you like. The game itself is great for honing dexterity skills and hand-eye coordination. An innovative take on a robotic arm with something really worth grabbing! For ages 6+ with help; 8+ "I got this!" | MSRP $39.95 *Please note, samples are currently in the North Pole and expected to arrive next month. Happy to send samples when available and can send images now.
Best gifts for teens/tweens:
Zox affirming wristbands ($10)
Zox offers a new modernized way to share kind words and messages that empower and encourage confidence to the people near and dear to your heart. Give a wristband with meaning that will hold value as an everyday accessory to any person you choose to uplift this holiday season.  Zox has incorporated a tightly ingrained social impact model that dedicates a percentage of proceeds from each bracelet purchased to provide a year of clean drinking water to someone in need through nonprofit partner, the Thirst Project, and has raised over $700K+ to date.
Kids against maturity Illustrated edition ($24.99)
Keep your kids busy and laughing during the holidays and all year round with Kids Against Maturity, a hilarious, award-winning fill-in-the-blank game. With age-appropriate toilet humor for kids and witty layered innuendos for parents, Kids Against Maturity delivers festive fun for the whole family – ideal for parties, travel and sleepovers. One game set includes 600 cards – a mix of blue question and white answer cards – one rules card, and a compact box to store it all. Expansion packs are also available.
Best gifts for celebrating Hanukkah:
Manischewitz Ugly Sweater Chanukah Sugar Cookie Kit from KAYCO! ($8.99)
The exciting offering has everything your family will need to create your Ugliest Sweater yet. The kit includes sugar cookie mix; traditional yellow and blue color powders; Chanukah sprinkle mix; three piping bags and a sweater cookie cutter. All you need is your sense of humor and creativity. The packages make 8 to 10 Ugly Sweater Cookies to share, gift or 'just eat.'
Manischewitz Ready to Decorate Pre-Baked Sugar Cookie Kit from KAYCO! ($9.99)
For an activity anywhere in the house, this kit includes12 pre-baked sugar cookies shaped in all the festive ornaments of the season including Stars of David, Dreidels, Wine Glasses and Menorahs. The package is complete with blue and silver glitter crystals; royal icing mix; blue and yellow color powders and three piping bags. Your kids, friends and family can show their Chanukah creativity, snacking all along the way.
Mitzva Moose Book & Doll Set ($24.99)
Hanukkah's alternative to Elf on the Shelf! Celebrate the 8 nights of Hanukkah with The Mensch on a Bench family of products and add more Funukkah to Hanukkah. While teaching the importance of the holiday through a variety of educational and inspiring storybooks, Moshe the Mensch and his family are on a mission to encourage others to be honorable mensches and to bring fun and laughter to your family. Whether you're shopping for children or your Bubbe, there's a member of the Mensch mishpacha for everyone. From singing and dancing to teaching, joke-telling and more, the Mensch mishpacha does it all.
Most heart-warming books:
The Merry Christmas Mittens by Sarah Janco; Illustrated by Blayne Fox
Encounter magic and adventure in this charming tale guaranteed to spread holiday cheer. On Christmas Eve morning, Holly goes to the pond to skate and loses her mittens in a gust of wind—and then the mittens are off to see the town! Meet every jolly creature and see each Christmas tradition Holly's mittens experience, and along the way, learn something about the true meaning of Christmas.
Ted the Friendly Frog and Santa Frog by Scott McCall (Author), Autumn Brook (Illustrator)
'Tis the season with Ted the frog! Ted and his brother Brad are snuggled up by the fire on Christmas Eve, waiting to hear the story of Santa Frog. Their father tells them an incredible tale of the time he met Santa Frog, many years ago, and was gifted a coat to use to stay warm in the winter. When the story is done, Ted and Brad can't wait to see if Santa Frog comes again that night, in a sleigh pulled by nine birds with a sack full of toys for every frog family! See if Ted gets to meet this very special frog in the third book of Scott McCall's Ted the Friendly Frog series, Ted the Friendly Frog and Santa Frog.
My Lucky Skinby Omerine Aseh (Author), MD (Author), Marira Lia Malendrino (Illustrator)
When Ayo goes to his first day of kindergarten, he meets a whole class of new friends. But he notices that no one else's skin is dark brown, like his. Does that mean there is something wrong with the way he is? But when Ayo asks his mom about it, she assures him that no skin color is better or worse than any other. He learns that we all have different amounts of something called melanin inside of us, which is what makes our skin look different colors. That is the only difference. When Ayo goes back to school, he sees all the different colors of skin in his class now, and he realizes how every color is lucky and beautiful in its own way-including his!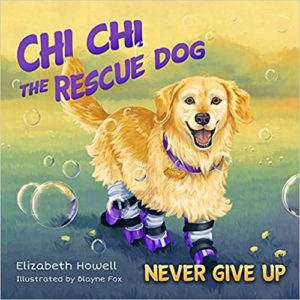 Never Give Up (Chi Chi the Rescue Dog, 1) by Elizabeth Howell  (Author), Blayne Fox (Illustrator)
Never Give Up is the true story of Chi Chi, a Golden Retriever who is left abandoned and broken on the side of the road. She is rescued and brought to an animal hospital where the doctor must amputate Chi Chi's legs. Chi Chi is joyful even though she loses her legs, and she waits patiently for her forever family to adopt her. When she is adopted, Chi Chi's family realize that the bandages on her legs fall off easily. They decide to get her prosthetic legs, or "shoes," so she can run and play like other dogs. Chi Chi's hard work and joyful spirit give her the power to get stronger. When she gets her new shoes, Chi Chi is grateful to God for His plan for her life. Never Give Up will inspire readers to persevere through trials with a joyful attitude.
Cinco the Clinic Cat: 10th Anniversary Edition by Carol Brickell, Jim Hastings (Illustrator)
When school is out, Alisa spends each day with her sister, who works in a medical clinic. But Alisa feels alone and out of place. One day, she sees a new face — a stray cat. After five days, they become friends and she names him Cinco. Together, they get involved in the activities at the medical clinic — and make more friends along the way. Cinco the Clinic Cat is a story about friendship, set in a medical clinic in Latin America with vivid watercolor illustrations that capture the spirit of the culture. Carol, the author, met this kitty while working at a medical clinic in Honduras. Their meeting inspired this story about a cat who needs a home and a little girl who wishes for a friend, in a special place where people work together to help others.
If you are looking for more gift ideas, check out these local options at OKC metro museums for everyone on your list!