Reading Time:
4
minutes 
As a native Oklahoman, I have had several decades to learn about all the "happening" places in town. Whether it be the best places to eat with a group of friends, shopping for a special occasion or even knowing the best parks to run depending on whether you want to incorporate hills into your workout, I would consider myself somewhat of an OKC connoisseur. That was until I had my daughter!
After my sweet baby girl, Camden, was born in September 2019, my once familiar go-to restaurants and hangouts no longer felt suitable for me as a new mom. Now that I was responsible for a tiny human, I had to take so many things into consideration I had never even thought of—noise levels, temperature, nap schedules, feeding time and you could probably think of at least 10 other factors to add this never-ending list.
Fast forward 18 months and now post-pandemic me has a busy toddler to keep entertained—a seemingly impossible task for even the most experienced of parents. As I racked my brain for something to do one weekend while driving around town, I suddenly had an "ah-ha!" moment: The Edmond Farmers Market!
I went to high school just a mile up the road and lived less than a mile away from the Market for several years after college. Why hadn't I thought of this sooner? Fitness and healthy eating are a huge part of my family's life, as is spending quality time together outdoors. What could be more perfect than combining all those things into one outing? All I can say are these three words: Count. Me. In.
Visiting Edmond Farmers Market
We loaded up the mom-mobile on a Saturday morning and drove 10 minutes to the heart of Edmond where the Edmond Farmers Market is located. Parking was a breeze as we went first thing in the morning as soon as they opened at 8 a.m. Market hours are currently 8 a.m. to 1 p.m. on Saturdays through Oct. 30.
Immediately upon parking, we were greeted by adorable photo props the whole family enjoyed. It added that homey feel in the special way Oklahoma attractions always do. After stopping to take some fun family photos, we were greeted by delicious specialty pretzel samples from Trucker Treats out of Moore. That is my kind of greeting!
We made our way around the Market, finding what felt like a pleasant surprise at each new booth we discovered. Though masks were not required when we visited per local guidelines, most people wore their masks and the booths were far apart, leaving plenty of room for social distancing without taking away from the experience. From baked goods and local honey to trendy t-shirts and handmade jewelry that displayed the finest craftsmanship, we saw it all.
We stood at one of the local farm booths for what felt like an eternity, admiring all the beautiful herbs and homegrown fruits and veggies on display. Is there a limit to how much basil and mint a small family can reasonably consume before it expires? I think not!
We continued our stroll around the Market, discovering more delicious, local and unique finds, including:
Farm-fresh eggs

A slab of brisket that weighs more than my child (really!)

Fresh ground beef

Cheddar jalapeno bratwursts

Homemade (and completely natural) soaps and kitchen scrubbers

Almond biscotti

Smoked gouda
Fresh sourdough bread
If I had to choose a favorite, it would hands-down be the fresh, homemade bread options as well as the meat from a farm just a few miles away from where we live. The almond biscotti was a nice treat as well! Camden's favorite find was a kitchen scrubber she could not live without. Since bringing it home, she named it "blue" and has slept with it every night and woken up every morning asking for it. It's the little things, I suppose.
Though my family visited in person for the full experience, the Edmond Farmers Market also offers
contactless curbside pick-up for those who may not have time to stroll the Market like we did. Their Facebook page is frequently updated with FAQs and availability for the week, so I'd recommend giving them a follow to hear about all the sweet deals they've got going on before you visit (or for easy ordering online).
For those who choose to order online for curbside pickup, many of the vendors offer a pre-order option, so they can adjust inventory as necessary before the weekend. Pre-ordering often closes at midnight on Thursdays, so be sure to get your order in before then if you are shopping online. All online orders must be made through the WhatsGood online ordering app–a super quick and easy way to order your groceries each week!
Now more than ever, it is easy to see how important it is to shop locally. Not only does it help stimulate our economy, but honestly, the prices were on par with grocery store prices (a lot of it was cheaper) and it was apparent how much love and hard work went into each of the vendors' market items.
Next time you are making your grocery list or just want a fun outing the whole family can enjoy, check out the Edmond Farmers Market!
Tara Carr was born and raised in Edmond. She graduated from Oklahoma State University with a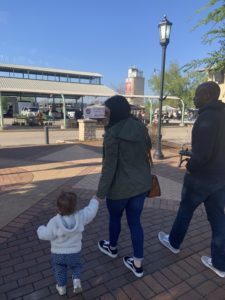 degree in marketing and communications and has a passion for making a difference in the nonprofit sector. When she's not working or spending time with her husband, Mike, and their daughter, Camden, she enjoys running marathons, lifting weights, telling corny jokes and doing things to challenge herself.