Reading Time:
6
minutes 
When your kids want to see animals, the first place you probably think of is the zoo. Local parents are so fortunate to have Oklahoma City's beautiful zoo nearby but there are so many other places in the metro and surrounding areas to have some incredible animal experiences.
From an incredible aquarium boasting sharks and jellyfish to a wildlife range that's home to impressive bison, Oklahoma is home to many attractions prime for animal encounters. Here are a few of our favorites.
Orr Family Farm
14400 S. Western Ave.
This Oklahoma City adventure is truly a family affair and has been entertaining all ages for 13 years. The real animal encounter happens in the animal barn but the fun doesn't stop there. There are train and carousel rides, giant jumping pillows, super slides, pedal cars and plenty of old-fashioned games. Plan to spend at least two hours at the farm.
Trip Tip: When you first arrive, take time for a train ride to get a feel for the farm and discover where the activities are located. It is easier to plan the rest of your visit with a clear idea of what the activities are and how long it will take to walk between them.
Unique Encounters:
Pony Rides – These cost $5 in addition to admission but the ride is a fun way to introduce kids to the original mode of transportation in Oklahoma.
Hours vary by season, so see website before planning your visit.
300 Aquarium Dr. in Jenks
Did you know 70 percent of the Earth's surface is covered with water? It's true and the Oklahoma Aquarium is working to help us understand this precious resource a little better. The Aquarium opened in 2003 and currently boasts six exhibits with two more under construction. The aquarium in completely indoors and full of interactive exhibits the whole family will enjoy.
Trip Tip: I-44 between Oklahoma City and Tulsa is a toll road that will cost $4 each way. Be prepared.
Unique Encounters:
Bull Sharks – The Oklahoma Aquarium has the largest collection of captive bull sharks in the country.
Extreme Amazon – This exhibit has an underground tunnel with connecting tubes with ladders that take the kids into the middle of the exhibit. Definitely a unique view of the facility.
Feedings – Pick up a feeding schedule at the information booth so you can watch Aquarium employees feed the larger fish or pay $3 for sting ray food.
Petting Tanks – There are several scattered throughout the aquarium and are free of charge.
The facility is open year-round from 10 a.m. to 6 p.m. with extended hours to 9 p.m. on Tuesdays. Admission is $19.95 for adults, $15.95 for seniors (62+) and military and $15.95 for children age 3–12. Children 2 and under are admitted free.
Wichita Mountains Wildlife Refuge
Visitor's Center is at the intersection of HWY 115 and 49 in Indiahoma
Less than two hours southwest of Oklahoma City, this is an incredible place for wildlife viewing. But there is so much more to this refuge than seeing amazing animals. The property serves as the seed stock for all bison in North America. The refuge was initially set aside as a forest preserve in 1901 to protect the area during the land run. In 1907, Congress authorized using the land to bring the bison back. The Bronx Zoo originally sent 15 animals to the refuge and within 10 years there were enough to start shipping them throughout the country. The bison has long been Oklahoma's state mammal, but with the animal recently being named the national mammal, you have even more reason to visit.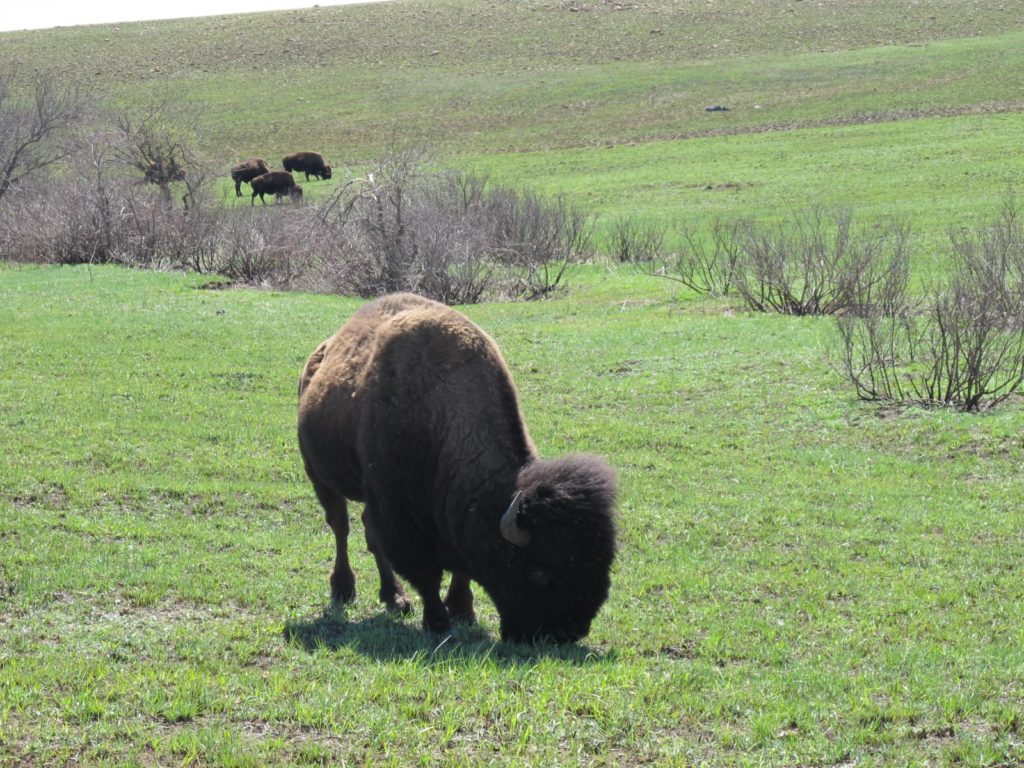 In addition to bison, longhorns and prairie dogs abound. These animals may be small but they have no small impact on their prairie ecosystem. They are the keystone species for the North American prairie. Many of the plants and animals on the prairie rely on prairie dogs for one reason or another. Also, prairie dogs do not hibernate in Oklahoma so you can see them year-round.
As with a lot of Oklahoma's parks and recreation areas, the Civilian Conservation Core (CCC) built all the dams and the fire tower on the property. These dams allow small lakes to form and make fishing possible. A few of the lakes are motor boat free if you want a quiet place to fish.
Bison and longhorn roam free at this refuge, so it's important to stay aware to keep your family and the animals safe. There are fences but animals roam free within them. Speed limits are strictly enforced for your safety and for the animal's safety. Do not get close to animals and do not feed them. Hiking trails abound at the refuge and it's not uncommon to see wild animals while hiking. Keep a safe distance while hiking near wildlife.
Trip Tip: Because this is such an amazing place, the Wichita Mountains Wildlife Refuge receives more than 1.5 million visitors every year. That makes it the busiest wildlife refuge in America. Keep that in mind as you plan your adventures. If the weather is beautiful, there will most likely be a large crowd.
Unique Encounters:
Prairie Dog Town – Kids love this "town" of prairie dogs where it's always easy to see at least one poking its head out of its burrow and "barking." If you are patient, you will see more.
Charons Garden Wilderness Area – These rocky hills are unique for Oklahoma and are worth at least a drive through. If you are more adventurous, get out and explore. But be prepared if you set out on foot. Carry plenty of water and wear proper shoes because there is little shade and the rocks can get very warm.
Mount Scott – This is one of the most prominent peaks in the area and visitors can drive all the way up to the top for sweeping views of the Oklahoma plains.
The refuge is open to the public at no cost. Trails are open from dawn until dusk daily and the visitor center is open from 9 a.m. to 5 p.m. daily.
Deep Fork National Wildlife Refuge
21844 South 250 Rd. in Okmulgee
This refuge is set in the forested hills about an hour and a half east of Oklahoma City. Deep Fork is fairly young (established in 1992) and acreage is still being added. The main purpose of this refuge is to protect the wetlands and wildlife habitat associated with the Deep Fork River.
This area is perfect for peaceful, easy hikes, scenic river views and birdwatching.
Hiking Trails:
Cussetah Bottoms Trails – These trails are located next to the refuge headquarters and offer a boardwalk that overlooks a lake, a half-mile of trails and a bird blind. There are restrooms and picnic tables here as well. It's a great trail to introduce your kids to some birds they may not have seen before.
Railroad Trails and River Overlook – These trails are only about a mile round-trip and offer an over-the-water view of the river. The roads leading to this trail are unpaved and may be difficult for small cars to navigate. There are no restrooms on this trail.
Bird Watching Tips 
As a general rule, wildlife are more active at dawn and at dusk.
Be still. If you can sit still long enough, hidden animals are more willing to make an appearance.
Listen before you look. Help your kids notice the differences between birds' songs. Even if you can't see the birds, their songs can be just as pretty.
When you hear birds singing, help your children learn to identify where the sound is coming from and try to locate the bird.
Bring binoculars to get a better look at nearby birds.
The refuge is open to visitors at no cost. Trails are open from dawn until dusk daily and the headquarters office is open from 7:30 a.m. to 4 p.m. daily.
The Menagerie: Bradt's Mammals & More
Three miles west of Alva on HWY 64
What started as a way for the Bradt family to get their sons to spend less time playing video games and more time outside has turned into a beautiful farm that's open to the public. The family-owned farm offers a unique opportunity for visitors to get a glimpse of some unique wildlife. The Menagerie is open for visitors to come pet the family's unique collection of animals and even take a ride on a camel or a longhorn.
One of the most lovable animals on the farm is a huge Scottish Highland bull. Other animals on-site include a zebra, llamas, alpacas, sheep and donkeys.
Plan to spend at least an hour, but it can be more or less depending on how much interaction you want with the animals. During the fall, the farm opens one of Oklahoma's largest round hay bale mazes. If that isn't enough, they also have an impressive playground.
Trip Tip – Being a farm, the Bradts recommend wearing closed-toes shoes you don't mind getting a little dirty. It can also be windy, which makes the cold weather feel colder. Bring a jacket or windbreaker.
Unique Encounters:
Camel Rides – You don't realize how tall camels are until you are sitting on one. The $10 cost of the ride is well worth the memories made.
Hours vary seasonally. Admission is $6 per person and includes one cup of food for the animals.