Reading Time:
5
minutes 
When Cristi Whiddon's soon-to-be 5th grader came into her bedroom armed with questions about menstrual cycles, anatomy and the female body, the Tuttle mom of two admits she was caught off guard.
But before she knew it, that feeling of shock was gone and she was drawing diagrams and answering all of her son's questions, opening the door to conversations that she said her parents didn't have with her.
"My parents didn't sit down and have 'the talk' with me; I had to learn on the streets from friends, and I didn't always get the information right," said Whiddon.
Discussing sex with teens and pre-teens is not a new concept for parents, and neither are the nerves, shock and sometimes embarrassment that come along with it. Oftentimes those feelings seem to be multiplied when the audience for those discussions is boys.
Dr. LaNita Wright, an assistant professor at the University of Central Oklahoma, said there is a focus on girls when it comes time to discuss sex because there is an assumption that girls are undergoing more changes and have more questions.
"There are more conversations with girls because menstruation is less uncomfortable to talk about than semen and sperm production," said Wright, who teaches in UCO's community/public health program and focuses on human development, adolescent development and sexual health.
Leaning in to Discomfort
Wright said society doesn't expect for boys to express themselves and come to their parents or guardians with questions about sex, but that doesn't mean they don't have questions and that they don't want answers.
"Oftentimes we think that young people don't want to have conversations with their parents or guardians, but they actually do," said Wright. "They just don't know how to ask the questions and they may be uncomfortable or don't know where to start."
She encourages and empowers parents to own their voices and not shy away from having what can be uncomfortable discussions with the young men in their lives.
"I think the most important thing I would convey is that the parent or guardian in a young person's life is the primary educator in that young person's life," said Wright.
Samantha Butts knew 'the talk' was coming at school for her now 14-year-old son, but the Norman mom wasn't nervous about having conversations at home because open dialogue with her children has always been important to her. Butts said that stems from the fact that she was a teen mom.
"I had him when I was 17 so we always had an open dialogue," said Butts, who also has a 7-year-old son and 5-year-old daughter. "As he got older and closer to [the age that I had him], I think he realized how young we were and I think that kind of opened it up."
Butts and her husband grew up very differently when it came to their parents discussing sex with them. Her parents were more open, whereas her husband's parents were more of the don't-discuss-it-at-all type. Butts said coming from two different backgrounds has impacted the way both she and her husband have approached the topic in their home.
"He wanted to be very careful with the words he used, he didn't want to make him uncomfortable, whereas I was like you might as well make him uncomfortable because it's an uncomfortable thing to talk about," said Butts. "There is no way to talk about it without being uncomfortable for anyone involved."
Wright said parents and guardians have to lean in to their discomfort, meaning they need recognize that they may feel uncomfortable,
but that does not mean they cannot handle
the discussion.
"Knowing that you're going to be uncomfortable is really a huge step because now you can work toward being more comfortable," said Wright. "Know that when you really push past that discomfort, there's something so beautiful on the other side of that because now you can actually have conversations with your young person. It's a temporary discomfort and it's absolutely worth it."
Relationships Matter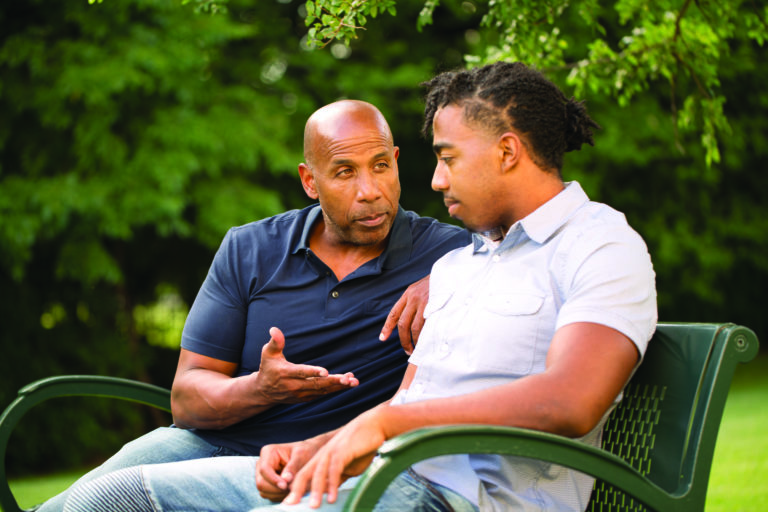 Whiddon was not only surprised that her son was so open to start a conversation but also that he was coming to her rather than her husband, Brad.
"I think I was nervous about explaining things to a young boy," said Whiddon.
She's been a stay-at-home mom since her son was born and thinks that constant presence made him comfortable to talk to her. Butts said she had a conversation with her son and asked if he would be more comfortable talking to his dad.
"He said it was more comfortable to talk to me because I've always talked about it and I've always brought up those things," said Butts.
The gender of the parent having discussions with a child is less important than the connection and comfort the child has with the adult.
"If you are mom, and dad is not in the home, that doesn't mean you should not have this conversation with your sons," said Wright. "It's about building those relationships. Relationships matter."
For Edmond mother Lisa Calvin, even though it was easier to talk to her now 26-year-old daughter because she could relate to her, she still is comfortable having open discussions with her two sons, ages 18 and 16. Calvin said her youngest son sometimes seems more comfortable talking to her, but that can vary day to day, and at times her husband handles more of the conversations with their sons.
Sometimes boys may feel more comfortable talking to a trusted male figure because they know that person has experienced what they are experiencing.
Jonathan Burton, an Oklahoma City single father of three, said even though he knows he may feel more comfortable talking to his two sons about sex than he will talking to his 9-year-old daughter, he recognizes the importance of having those conversations with her as well.
"I feel as a dad, that's a hard thing to do with a daughter because there are certain things that you don't understand that her mom would understand," said Burton. "But am I going to have those conversations with her? Yes. Am I going to be comfortable? Probably not. But it's not about me being comfortable; it's about parents giving the right information so their kids make the right choices."
One of the biggest differences for Calvin between talking to her daughter versus talking to her sons is how the conversations started. Her daughter would ask questions that would develop into a conversation. Her sons don't ask questions, so conversations and topics come up as needed. For example, when her sons wanted to watch the Netflix show 13 Reasons Why, that opened up  discussion about consent.
"We do more small conversations along the way," said Calvin. "That's what works for the boys. I don't think it needs to be talked about at length; it needs to be in short bursts. Because if we do stay on the topic for too long they just aren't having it and they are like 'let's move on.'"
Beyond the Birds and the Bees
Consent is the main topic of conversation that Calvin and her husband are having with their sons right now. Wright agrees that consent, sexting and decision making are important discussions parents need to have with their teens and pre-teens so they can better inform and influence their decisions.
"As trusted adults we have to recognize that they are making decisions that they may have not fully processed yet," said Wright. "It's important for us to help them to process those decisions because when they are on their own they may not make a decision that they want to make. They may have not thought through the whole thing."
Burton has talked to his 17-year-old son about focusing on school, work, his athletics and future goals, while also discussing with him the ramifications of making sexual decisions that he may not be ready to make.
"I'm not going to tell him he can't do this or that, but I am going to say if you do this, these could be the consequences," said Burton.
Brad Whiddon and his wife have always sought to be open and honest in their discussions with their children, and conversations about sex are no different.
"If you're not straightforward with them, their friends will be," said Whiddon. "If you don't talk to them about it, someone's going to, and you don't have control over that conversation."
ReRe Lunsford is a Norman mom of two boys and an adjunct journalism professor at the University of Oklahoma.