Reading Time:
6
minutes 
Make sweet memories as you embark on a day trip to see a new-to-you holiday light display! Check out these two Oklahoma day trip inspirations with socially distant family fun.
Muskogee – Mosey on over for some old-world fun
The Castle of Muskogee (3400 W Fern Mountain Rd, Muskogee) is well-known for Halloween and Renaissance festivals, but this family-friendly attraction also lights up the holidays with the Castle Christmas Celebration. Whether by train, hayride or car, families can journey through Castleton Village, an old-world winter wonderland filled with thousands of colorful displays and twinkling lights. You can even stroll the streets of the village atop Christmas ponies or Cletus the Camel. Holiday merchants set up shop to peddle unique gifts, sweets and souvenirs.
Extend the festive fun with a visit to nearby Garden of Lights at Honor Heights Park (1400 Honor Heights Dr, Muskogee). The park's display features more than one million lights, enhancing the natural beauty of the botanical gardens, waterfalls and ponds.
Both light displays are open nightly from 5:30 to 10 p.m. from Thanksgiving through New Year's Eve. Admission to the Garden of Lights is $5 per car. Rides and other activities at the Castle are open on select nights in December and prices vary. To plan your visit, check out okcastle.com/castle-christmas.
Make it a whole day of fun with a visit to these nearby attractions
Oklahoma Music Hall of Fame
Officially recognized by the state legislature in 1996, the Oklahoma Music Hall of Fame & Museum (401 S 3rd St, Muskogee) highlights Oklahoma's rich and diverse musical landscape and the impact on the music industry of Oklahoma icons like Woody Guthrie and Merle Haggard, as well as modern talents such as The All American Rejects, Kristen Chenoweth and Carrie Underwood. Along with biographical exhibits highlighting many of the inductees, the museum features memorabilia and artifacts on display.
"We have an old-school reel-to-reel that plays Okie From Muskogee and an eight-track exhibit," said Harley Hamm, manager of the museum and the entertainment director. "We have tons of autographed guitars and even a Hee Haw exhibit."
Housed in an old Frisco freight depot, the museum is also a popular concert venue hosting inductions and live concerts throughout the year. This kid-friendly museum offers self-guided tours by appointment. The museum is open Tuesday through Saturday from 10 a.m. to 5 p.m.; there is no charge for admission but donations are appreciated. To schedule a tour, call 918-687-0800. Stay up to date about upcoming events on the Oklahoma Music Hall of Fame's Facebook page.
Three Rivers Museum
As one of the earliest regions to be settled west of the Mississippi, the Three Rivers Museum (220 Elgin, Muskogee) chronicles the history of the region where the Arkansas, Grand and Verdigris Rivers meet through multi-ethnic, historical exhibits. The artifacts illustrate how Muskogee played a part in shaping early Oklahoma, telling the story of the pioneering people and industries of the American frontier. The museum is housed inside a renovated mission-style railroad depot and, behind the museum, families can climb aboard a 1940s-era diesel switch engine.
There is a one-room schoolhouse on the museum campus that families can also explore to learn about the early days of education.
The museum campus including the train and the schoolhouse are decorated for the holidays.
"We usually have a silent movie playing in the upstairs window at night," said Angie Rush, museum director. "Families can stop in after hours and watch from the street. The film runs about 5 minutes."
The museum is open Wednesday through Saturday from 10 a.m. to 5 p.m. Admission is $5 for adults and $3 for kids 6 and up.
Fuel Up
Muskogee prides itself on having the most BBQ restaurants per capita than any city in Oklahoma, said Justin O'Neal with the Greater Muskogee Chamber of Commerce.
Runt's Bar B-Q and My Place Bar-B-Que are close to Honor Heights Park and Runt's has freshly-baked pies made in-house daily, a tasty treat to warm up after your light tour.
Tulsa – Trek to Tulsa for glittering gardens
The Gathering Place has received national accolades for its beautiful, wide-open landscapes, unique park features and unexpected attractions. Families can spend hours exploring the nearly-100-acre park. Climb, slide, swing and zip to your heart's content throughout the year, but don't miss a visit during the holidays, when the park transforms into a winter wonderland complete with faux snow! This year's festivities will have a socially-distant spin, allowing families to enjoy the magic of the season safely. Beginning Dec. 18, thousands of twinkling lights will illuminate Chapman Adventure Playground, carolers will perform around the park and organizers are working on plenty of other fun surprises. The celebration will continue nightly through Jan. 3.
Then head over to Broken Arrow where the Rhema Christmas Lights Extravaganza (1025 W Kenosha, Broken Arrow) has been an annual holiday tradition since 1982! More than two million lights illuminate the spacious church campus. The ever-popular Christmas tree forest and the twinkling Rhema Park bridge are ideal spots to capture holiday photos. Families can walk, drive or ride a horse-drawn carriage through the lights. Admission is free and concessions are available for purchase. The display continues nightly until Jan. 2 from 5:30 to 11:30 p.m.
Make it a whole day of fun with a visit to these nearby attractions
Tulsa Botanical Gardens
While a visit to a botanical garden might seem like a springtime affair, the Tulsa Botanical Gardens (3900 Tulsa Botanic Dr, Tulsa) host the annual Garden of Lights Festival welcoming families to explore the 2-acre children's garden and meandering lakeside promenade set to the twinkle of holiday lights. Enjoy the beautiful botanical sights as well as special themed activities and classes during the day, plus train rides, fire pits, a garden railroad display and more on select nights throughout the holiday season. Refreshments including hot chocolate and s'mores kits are available for purchase during the evening activities.
The Garden of Lights Festival kicks off Nov. 26 and is open nightly Thursday through Sunday until Jan. 2. The gardens close at 3 p.m. and reopen for the festival from 5 to 9 p.m. Advanced ticketing is required for timed entry slots and tickets are limited. Admission for adults is $15, $5 for kids ages 3 to 12 and free for children 2 and under. Find all the details at tulsabotanic.org.
Philbrook Museum of Art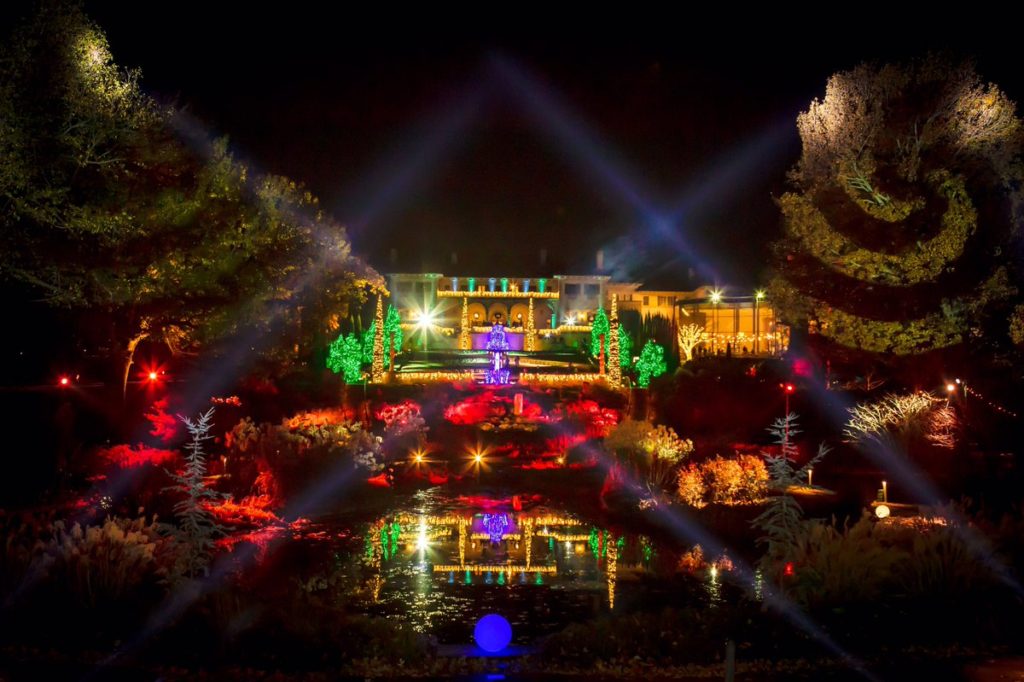 Philbrook Museum of Art is unexpected in just about every way. It's an art museum, a historic mansion and formal gardens, nestled in a beautiful neighborhood. The art on display spans an array of mediums, periods and countries. The architecture is beautifully preserved and the gardens are inviting both to children who need a place to move about and those who want to just sit and enjoy the natural beauty. There is plenty of space for both.
The gardens are just one of the reasons the museum is so family-friendly. They also offer free admission to kids 17 and under as well as fun events like Singalong Saturdays, family yoga in the gardens, storytime, outdoor movies and the annual Philbrook Festival.
With thousands of lights illuminating the gardens, families can enjoy festive holiday happenings. Festival admission is $15 for adults and $3 for kids. Take-and-make activities are $5 each. Find all the details about upcoming events and reserve your timed entry at philbrook.org.
Fuel Up
Mother Road Market (1124 S Lewis Ave, Tulsa) is a food hall with plenty of family-friendly dining options from pizza, tacos and burgers to sweet treats. They offer curbside and patio dining, plus fun holiday shopping options including a children's bookstore. Afterward, enjoy more holiday shopping at nearby Buck Atom's Cosmic Curios on 66, Decopolis and Sky Gallery, an art gallery with local art at a variety of price points.
For more holiday fun, including light displays, shopping, local events and winter break camps and activities, visit metrofamilymagazine.com/winter.