Reading Time:
5
minutes 
Being a parent of a pre-teen can be hard. Are they bored or are they thinking? Did they mean to sound like they're disgusted at the idea of spending time with me or did I interrupt their playlist? Are they laughing with me or at me? You just never know.
I am constantly looking for new ways to connect with my pre-teen and that's why I jumped at the opportunity to spend the evening on a mother-son date this weekend. No technology. No work. No siblings. No distractions. No stress. Also – incredible food and music? What more could a mother-son duo want? Although it worked out perfectly to bring my son, I know from experience that any OKC Phil concert makes a memorable date night for my husband and me.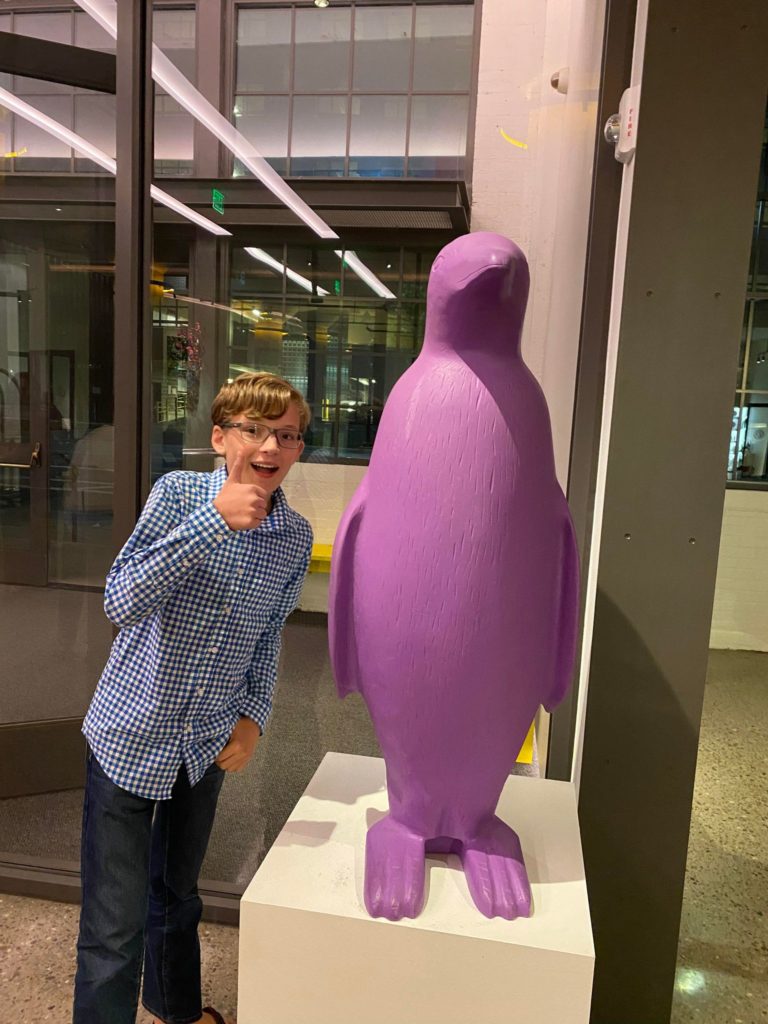 We started our evening off with dinner at 21C's Pool Bar and Bodega. It is in such a fun environment! We walked past the purple penguins and art exhibits to get to the restaurant, and truthfully, with it being a counter service restaurant, I was not expecting the caliber of food that we received. The menu has a few options for Snacks, Hand Helds, In a Bowl, Sweets, and Sides, but the options range from vegetarian and healthy to meat and carb loaded (sign-me-up!). There are also tons of vegetarian, vegan, gluten-free, and dairy-free substitutions for those who need it. They have an outstanding variety of cocktails that I can't wait to go back and check out. Though it's a casual and laid-back environment, the quality of the food and the decor made us feel like we were out on the town but didn't have to stress about reaching across the table to grab a bite off of each other's plates.
We ordered the shrimp ceviche to start and when I tell you this dish changed my life, I need you to know there is no exaggeration here. I will make the twenty-four minute drive as often as I'm able just to eat this again. For our entrees, my son ordered the crispy fish sandwich with BBQ fries and I ordered the smoked suckling pig sandwich with the potato salad and a hibiscus lemonade, and we finished the meal off with an order of the mini churros. We did not have one single complaint. My son cleared his entire plate and what little I had remaining of mine (I may or may not have filled too much of my stomach with that life-changing ceviche), we made a point to get a to-go box so that we could finish it later. We didn't want to waste one single bite.
The service was great. The environment was fun, laid back, and made us feel like we were way cooler than we are. The food was top-notch and far exceeded my expectations. 21C's Pool Bar is the perfect option for a relaxed night out, when you're looking for a lower priced dinner option but don't want to sacrifice on the quality, or if you are just craving some seriously delicious food.
After dinner, we drove over to the Civic Center Music Hall for the OKC Philharmonic's Pops Series: Happy 90th John Williams! We love music so we were very excited. There were tons of paid parking lots very close to the building. Normally, we'd park a bit away and walk, but because it's getting colder after the sun goes down, it was really nice to know that we didn't have a long cold walk to and from the Civic Center.
Though we got there at the same time as many others, the entrance process was really easy now that they don't scan your tickets until you're going in to find your seats. They had snack and drink stations set up for purchase, and there were tables with art and OKCPhil swag for those who wanted to walk around a bit before the show began. The signage made it very easy for us to find where we were supposed to enter the auditorium and the staff were very helpful in directing us to our seats.
The show itself was breathtaking. Sometimes it's easy to forget that we have talent like this here in Oklahoma City. The program was engaging for people of all ages. The set backdrop was beautifully coordinated with the music. The conductor was hilarious, and even though my son and I were seated behind two people taller than us, because of the way the seats are set up, we didn't have any issues seeing the stage. There isn't a bad seat in the house.
My son is in his first year of band at school this year, so we had an awesome time listening for the different instruments throughout the show. Now that he is learning an instrument of his own, he has a new appreciation for the skill and talent it takes to perform at the level the OKC Philharmonic performs. If you have a child who is in band or orchestra, I highly encourage you to take the time to bring them to one of these shows. It really inspired him and gave him a new drive to practice and appreciate music. Though our daughter isn't playing an instrument just yet, we are already planning our next visit to another OKCPhil show, especially with the Holidays coming up! Every time we have attended one of their shows, we are blown away. Our kids enjoy themselves just as much as my husband and I do, and it is so nice to have time out as a family to do something that is away from screens and the hustle and bustle of life. To check out their upcoming shows, visit https://www.okcphil.org/concerts-tickets/. If you're looking for a perfect family fun event to kick off the Christmas season and want to enjoy Home Alone in Concert, we just may see you there!
Bio: Rev. Aly Shahan the Director of University-Church Relations and Religious Life at Oklahoma City University and the Associate Pastor at Wesley United Methodist Church in OKC. Aly is the mother of two and wife to her best friend who is also a United Methodist pastor. She is passionate about building safe and sacred community through vulnerability, honesty, encouragement and laughter. Follow Aly on Instagram: @RevAlyShahan, check out her blog: alyeshahan.wordpress.com, or come be a part of the growing, diverse, inclusive, and mission-minded congregation at Wesley United Methodist Church in OKC on Sundays at 10:30am.