Reading Time:
3
minutes 
Oklahoma City family fun is best enjoyed in good company.
I've been on the mom scene long enough to see parties trend from fancy venues to play places to at home and back again. No matter how your celebrate, your kids are going to remember some version of what you did and with whom.
There are some amazing venues in Oklahoma City to have a birthday party, a holiday party or just a cool playdate with friends. Find them here in our annual Party Guide.
Our Ultimate Birthday Party Giveaway features 17 places that would make for an outstanding party, including some that come to your home, like Project Princess, Extreme Animals and Teddy Bear Mobile North OKC. You could go to some place really fun like SoccerCity OKC or Myriad Botanical Gardens or Artsy Rose Academy. Contest participants can register to win any party or just certain ones; either way, you have a chance of winning and I like this giveaway because I get to call 17 families who are happy to win.
One venue that stands out from the list of possible parties to win is Main Event. The party packages the venue offers are here; they're customizable for the number of attendees and how many hours you want to stay. Bowling, more than 100 different arcade games, laser tag: there's a variety of activities you can choose from for a party or just for a family visit.
If you haven't been to Main Event, here are three reasons why you should plan a visit with kids this Thanksgiving Break:
Get away from everything: Time flies when you're having fun and when you step into Main Event, it seems to fade away. My sons and I played for about three hours. As my oldest detailed in November's Kid Review, we could have stayed three more and still found activities to do. Black Friday, the pressures of politics, house guests and turkey prep all fade away when you're having fun with your kids.
You can go with multiple ages: Sam is 11, Isaac is 6 and Gabriel is 3. We were able to all play together without anyone getting bored or upset, which definitely isn't the case at every venue. Even Jacob-Peter was able to hang out in the stroller without any major issues. If you have older teens, the venue is an ideal location for an after-party/lock-in event; it's open until 2 a.m. most days of the week. The gravity ropes obstacle course are one of the features for older kids that you won't find other places.
It's planned with families in mind: There's only one entrance/exit. The cleanliness of the restrooms and the arcade was impressive to me as a parent.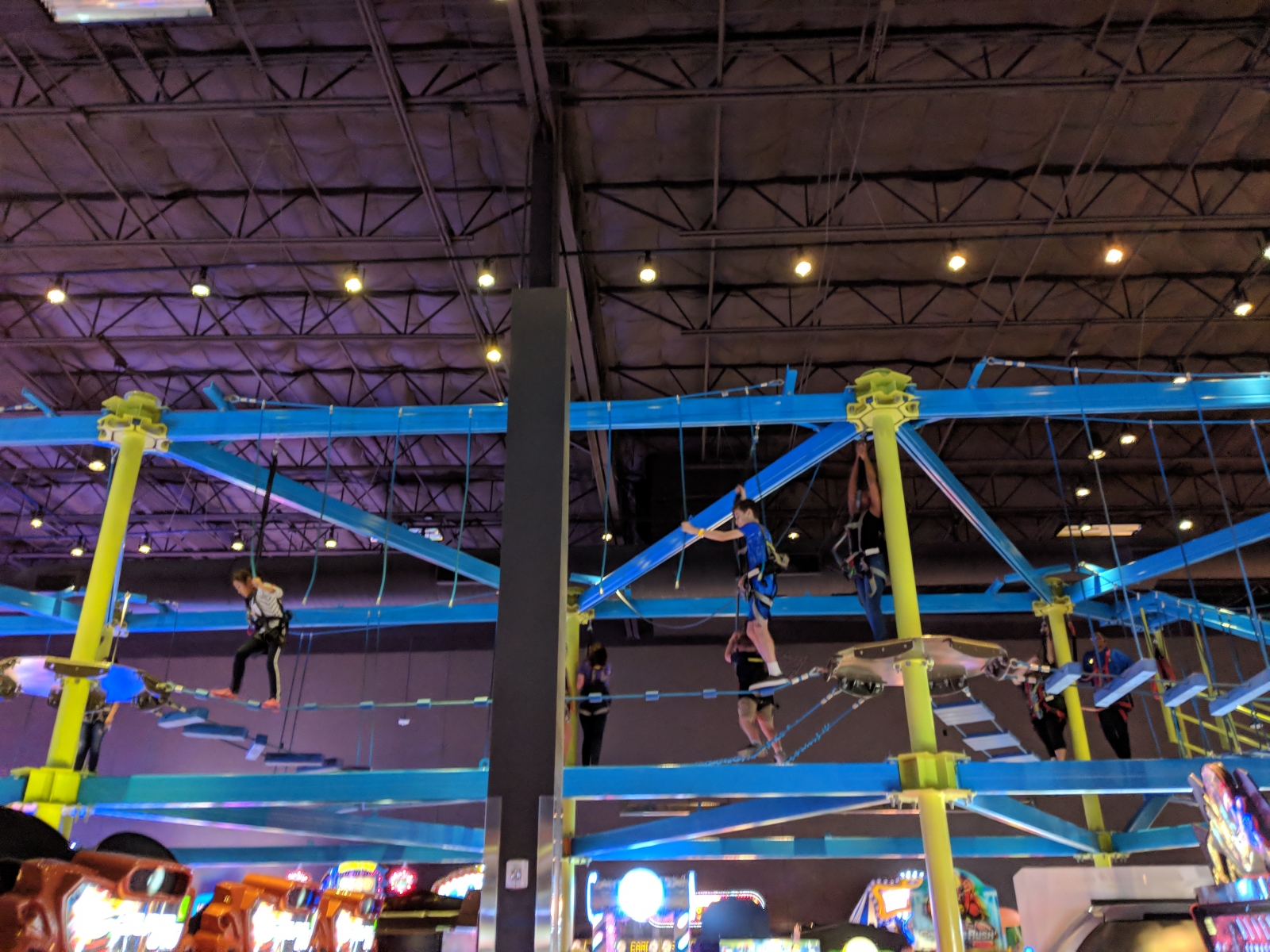 Last week, I wrote about how Thanksgiving can feel overwhelming, especially to moms when school is out for an entire week. I'm definitely feeling it right now, with a sick baby and way too much to do. Getting out of the house or sending another relative to a venue with your children can help alleviate some of that strain. If you're looking for something more artistic this holiday break, catch Factory Obscura's newest installation, BEYOND, before it ends Dec. 21.
No matter where you spend your Thanksgiving weekend, I hope you find #okcfamilyfun.