Reading Time:
4
minutes 
Imagine not being able to see your hand when it is only an inch from your face. This is what you will experience at Alabaster Caverns State Park and it's a unique experience for kids (and their parents).
Caves generally bring a sense of awe mixed with apprehension. They are the stuff of legend and home to infamous flying mammals, bats. But you know what our family likes best about caves? They offer a very welcome break from the summer heat—and they are just plain fun! Here are the two best places to explore caves with kids in Oklahoma.
Alabaster Caverns State Park in Freedom, about two and a half hours northwest of Oklahoma City
Park Entrance Fee: None
Tour Required: Yes
Tour Fee: Adult, $10; Youth (6-12), $7; Seniors (62+), $8, Active Duty Military (current ID required), $8; Children under 5, free.
Tour Length: 45 minutes
General Information: This state park gets its name from the material from which the caves is made: alabaster. Alabaster is a fine-grained, translucent and rare form of gypsum and this is the world's largest natural gypsum cave open to the public. There are a lot of ways to explore these amazing caves and some fun events celebrating the caves' most notorious inhabitant, bats.
Tour Information: The cave tour is less than a mile and includes 330 stairs. Needless to say, you are a little winded at the end. The cave is cool and damp (even in the summer) so plan accordingly by wearing a jacket and wearing closed-toe shoes to handle the narrow steps more safely. Tours are offered daily at the top of every hour from 9 a.m. to 4 p.m. and tour groups are capped at 40 visitors. The tour path is well-lit but the lights are on timers. The tour moves through the cave as the lights go on and off. To keep the tours timely, the following items are prohibited: cell phones, flashlights, cameras and baby strollers.
Photo Tours: These tours are designed to give participants optimal opportunities to photograph this beautiful and unique natural wonder. Tours occur every day at 9:30 a.m., 10:30 a.m., 1:30 p.m. and 2:30 p.m. from Memorial Day through Labor Day.
Lantern Tours: Be a part of living history in a whole new way by exploring Alabaster Caverns by lantern light. These tours will give a peek into the history of the caves. These tours occur the first and third Saturdays of the month in the summer through Labor Day starting at 7 p.m. The cost is $20 per person.
Spelunking (wild caving): There are four separate caves that you can explore on your own. Permits can be purchased at the park office from April 1 through Sept. 30. These caves are closed October through March to protect the hibernating bat habitat.
Lodging: There is camping available at this park but if you are feeling daring, you can even camp inside the cave! Call the park for more information or to make a reservation.
Make a weekend of it! There is a lot to see this in this area of the state. Here are a few suggestions:
Woodward – Located nearby, this small town is full of charm and ready to explore. Check out the Plains Indians and Pioneers Museum and Crystal Beach Park, complete with splash pad and miniature train.
Boiling Springs State Park – Beautiful oasis in the middle of the prairie. Best known for wildlife viewing, fishing and newly-renovated swimming pool.
Sod House Museum – The museum preserves the only remaining sod house built by a homesteader. It is located about four miles north of Cleo Springs.
Gloss Mountain State Park – Be prepared for hiking and amazing views. There is no camping available but it is the perfect place for a pit stop on the way out to Alabaster Caverns depending on your route.
Robbers Cave State Park in Wilburton, two hours and 40 minutes east of Oklahoma City
Exploring Time: 1-2 hours
Park Entrance Fee: None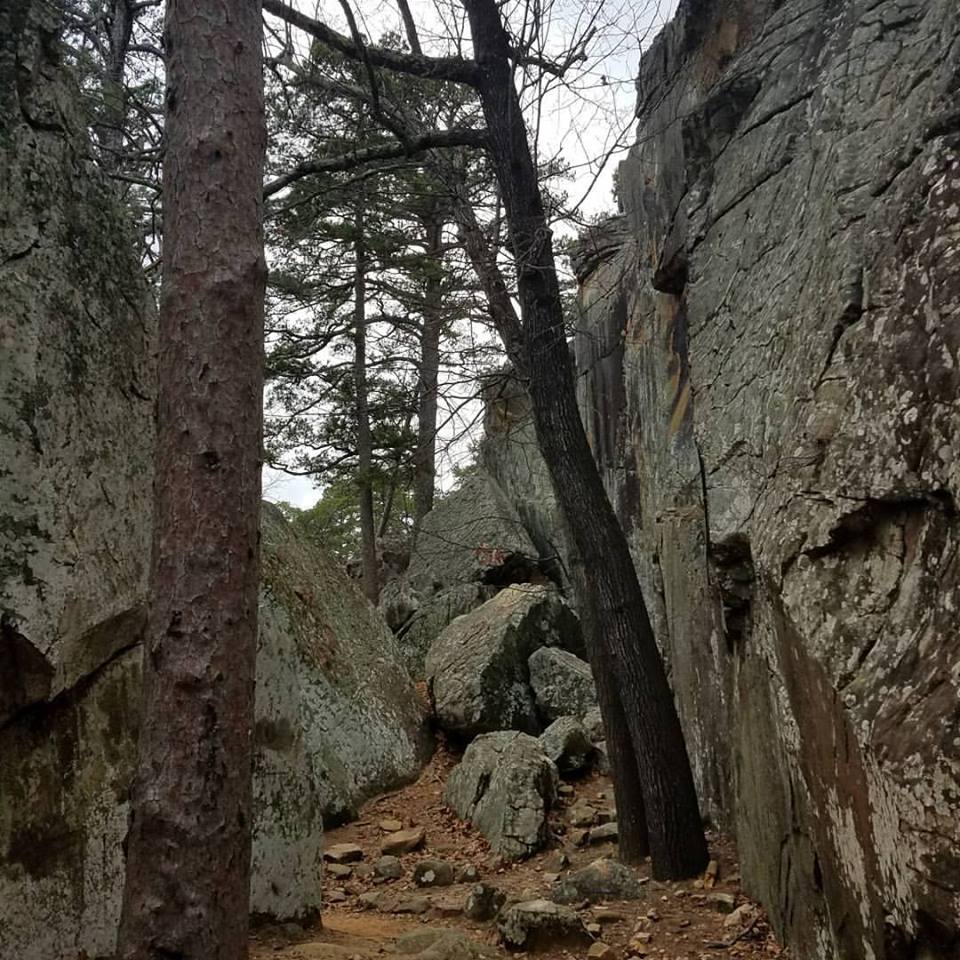 Tour Required: No, cave can be explored independently.
Tour Fee: $4
Tour Length: Varies
General Information: This is a stunning area of the state and some of the best views in Oklahoma can be found at top of the Robbers Cave trail. Robber's Cave itself is about 50 feet long and does not require a flashlight as plenty of sunlight can enter through the large opening. The whole side of the mountain containing Robbers Cave is full of caves and rock formations perfect for climbing and exploring. Plan for time to explore!
Before heading to the cave, stop by the Park Office/Nature Center to pick up a map and visit the exhibits. The Nature Center offers a quick look at the natural history of the area and examples of native wildlife. There is a cave tour every day at 9:30 a.m.
Lodging: There are campgrounds, cabins and a lodge at Robbers Cave State Park but this is a very popular park and they fill up fast. Another option is to camp at Arrowhead Area at Lake Eufaula State Park and make the 45-minute drive to Robbers Cave. If you don't like crowds, this is a good option and the views are equally beautiful.
There is a lot to see and do at this state park. Visitors wanting to make a weekend of it will enjoy equestrian trails, a campground, rappelling, miniature golf, bike rentals and a playground. A swimming pool is open Memorial Day through Labor Day.
Here are a few other can't-miss attractions at the park:
Lake Carlton – This lake features a swimming area, boat ramp, canoe and paddleboat rentals and fishing.
Lake Wayne Wallace – This is the largest of the three lakes at Robbers Cave. Besides beautiful views, this lake offers a boat ramp and fishing.
Belle Starr Express – Experience Robbers Cave State Park on a 30-minute miniature train ride. This is a great way to see the park if your time is limited or if you're not up for hiking.