Reading Time:
3
minutes 
Outdoor experiences for kids with autism
Camp DaKaNi is a well-known institution in the realm of Oklahoma City summer camps, having operated for 60 years in its current location. But nearly a decade ago, local parents began asking Camp Fire Heart of Oklahoma, the parent organization of DaKaNi, for an outdoor summer camp experience for children with autism. Camp CANOE (Children with Autism Need Outdoor Experiences) was born eight years ago and this year received a $10,000 grant from the Oklahoma City Community Foundation and a $10,000 grant from the national Camp Fire organization to continue to expand the camp's services.
Held the week of Memorial Day each year, Camp CANOE is limited to 30 campers, and staff is well versed in serving children at all levels of the spectrum. Each camper receives his or her own counselor, who have been trained in working with children with autism. With a philosophy of "challenge by choice," CANOE campers are exposed to and encouraged to try all the same camp activities as traditional campers, from the zip line and rock wall to archery and fishing.
"Everyone comes away on top of the world, including our staff, to see the transformation happening in these kids doing things they never thought they could do," said Jennifer Gradnigo, director of marketing and development for Camp Fire Heart of Oklahoma.
The grant monies will allow Camp CANOE to expand the number of children it serves this year and implement a new program within Camp DaKaNi for high-functioning children with autism to receive a social inclusion buddy for the week at summer camp. Parents can choose the option that best suits their child. For more information, visit campfirehok.org.
Extreme fun for a good cause
Honey Lee Ranch near Jones has long been appreciated for trail rides and birthday party fun. But this summer, the ranch will kick things to the extreme with two new camp experiences, designed to immerse kids in the outdoors, hone new skills and teach them about giving back.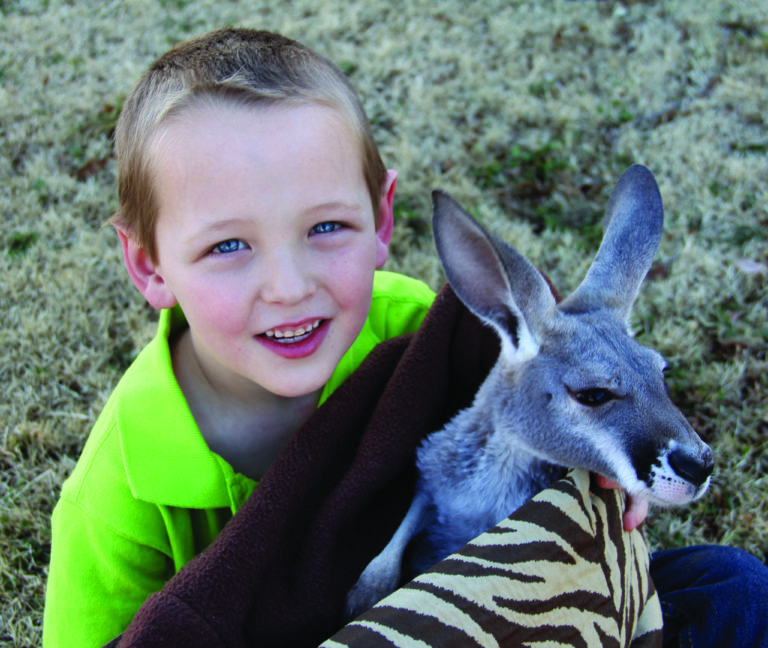 At Extreme Animal Camp, students ages 8 and up will meet domestic animals like pigs, horses and chickens at the farm and contrast them with exotic creatures from Extreme Animals, like lemurs, a sloth and a kangaroo. In an outdoor class
room, campers will learn about animals habitats, behaviors and care, as well as humans' impact on them, for better and worse, and practice creative and persuasive writing skills. The kids will also learn about and connect w
ith similar-aged students in South Africa from the DAKTARI Bush School & Wildlife Orphanage, to which a portion of summer camp proceeds will be donated to continue the organization's mission to educate and inspire children to care for their environment.
Extreme Laser Tag Camp gives enthusiasts the opportunity to act out video game scenarios in the outdoors. From discussing military strategy and tactics to building a fort and establishing a base, kids will learn teamwork skills and self-confidence. Every day will bring exciting new challenges. Campers will also learn about Game Rangers International in Zambia, Africa, an environmental nonprofit organization empowering, hiring and training local rangers to protect wildlife from poachers, using many of the same strategies campers
will learn during the week. A portion of summer camp proceeds will be donated to GRI – Zambia. Find out more at honeyleeranchextremecamp.com.
Pony up 
Cadence Equestrian Center offers the state's largest summer horseback riding camp for kids of any (or no) riding experience. At Camp Cadence campers ages 5 to 16 experience a real working horse ranch, receive both indoor and outdoor riding instruction and learn horsemanship skills like grooming, tacking and safety. Individualized horseback riding lessons, bareback rides, trail rides and games on horseback make for a week full of educational fun.
"Horses are remarkable at boosting self-confidence, independence and discipline," said Christy Buchanan, camp director. "We love to see the amazing transformations in the campers' self-confidence after spending a week at Camp Cadence."
Weekly opportunities for full- and half-day camps are available from June through early August. A limited number of campers each week ensures personalized instruction. Visit cadenceequestrian.com/camps for more information.