Reading Time:
3
minutes 
Xander Stone is a typical 13-yearold who loves spending time outdoors with his Boy Scout troop and aspires to become a chemist. Unlike most eighth graders, he has what he's dubbed "an ileum gone rogue."
Stone was diagnosed in early 2018 with Crohn's Disease after excruciating abdominal pain landed him in the ER, where that rogue ileum, a portion of the small intestine, was detected via CT. An ambulance ride to Children's Hospital, more tests and blood work culminated in the surprising diagnosis.
"Looking back over the year prior, we can see some of the symptoms that led up to it," said mom Martha Stone. "His growth had slowed and he often had a stomachache."
None of Xander's symptoms were singularly alarming, and the frequent tummy pain before school was thought to be related to anxiety. His intense pain, which led to the ER visit and subsequent diagnosis, was caused by a fistula, which eventually healed itself. According to the Crohn's and Colitis Foundation of America, inflammatory bowel diseases (IBD) affect as many as 1.6 million Americans. It's estimated around 80,000 of those are kids under age 20. The chronic, lifelong condition can be treated but not cured.
"People often don't understand this disease is more than just stomach troubles; we lose people to it every year," said Jackie Peterson, Take Steps Walk manager for several chapters of the Crohn's and Colitis Foundation. "And patients often don't want to come out and talk about it. There is a stigma that makes it difficult to get the word out so we can fund research."
On a variety of medications and supplements to manage his symptoms, Xander weekly battles his needle phobia as he learns to give himself shots, with the support of his dedicated team of mom, dad and younger sister, Avery. Xander is also becoming an advocate for himself, learning all he can about his disease and digestive tract, discovering what causes his symptoms to flare, asking lots of questions of his doctors and reviewing new medications with his mom to understand their purpose.
He's spent part of his last two school years at Hefner Middle School, and part on a homebound program.
"The hardest part is seeing my kid hurt and not being able to fix it," said Stone, who notes her family's faith and church as their biggest support system. "Aside from that, not having a group of people on our exact same journey to talk with and experience life with is challenging, too."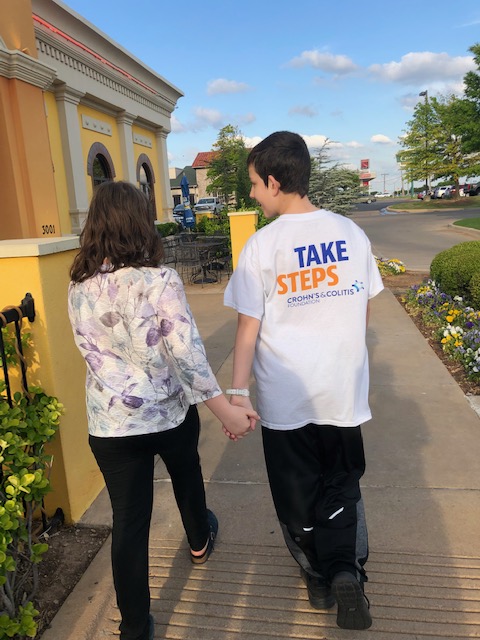 To form those connections, the Stones have become ambassadors for the disease and the Crohn's and Colitis Foundation of North Texas and Oklahoma. The mother-son duo started a monthly support group for kids with IBD and their families at their church, offering conversation, education and social opportunities, and they will serve on an educational panel for newly diagnosed children with IBD and their families at Children's Hospital in October. Xander was selected by the local Crohn's and Colitis Foundation to be the honored hero for the organization's Take Steps Walk on Sept. 21.
Participants, including Stone's Team Rogue Ileum, will walk from the intersection of 8th and Lincoln Boulevard to the Capitol and back. Festivities will include a DJ, games, inflatables, face painting and balloon artists for participants and the community.
"Xander has really come into his own as an advocate for himself and become empowered to realize he can make a difference for others," said Peterson.
Stone will share his story with the crowd and hopes to inspire participants, volunteers and the community at large to help fund the organization.
"I was excited to be chosen as the honored hero because I want to support research to find a cure," said Xander.
The fundraiser also supports Camp Oasis of Texas, a traditional summer camp experience for kids living with IBD. In addition to activities like zip lining, metal working, cooking and crafting, Camp Oasis has a full medical staff onsite and offers therapists, educational sessions for newly-diagnosed campers and training specific to the issues campers face related to IBD. Stone spent a week of his summer feeling "normal" amongst a group of kids walking the same challenging journey.
As Team Rogue Ileum prepares to walk on Sept. 21 to raise awareness and fund research, Stone is amazed by her son's ability to take his chronic disease in stride and use the opportunity to help others.
"He is stronger than I could ever have imagined," said Stone.
Learn more about the Take Steps Walk at www.cctakesteps.org/OklahomaCity2019.
Learn more about the Stones' Oklahoma City support group for kids with IBD and their families at www.crohnscolitisfoundation.org/chapters/ntexas/support-groups or by emailing marthastone@gmail.com.