Reading Time:
10
minutes 
Earlier this spring, we asked our readers to nominate the impressive moms they know in our annual Awesome Moms contest. We had more than 100 nominations. Although all were more than deserving of the honor, the MetroFamily staff worked to narrow down the list to these three incredible women. Thanks to everyone who nominated and congratulations to all the inspiring women working hard to be the best moms they can be.
Winner: LaSonya Young
LaSonya Young's daughter Amber Glinton nominated her: She's a superhero. A mother to six children and grandmother to three, she works hard for the Hope Community Center helping to provide housing for homeless individuals but even more than that, she builds relationships with them and inspires them to reach any dream they could imagine. That's what she's been for me and my siblings our entire life, a motivator. She serves in her church and is always empowering women of every age to remember their worth and their beauty and to stand up for what they believe in even if they're standing alone. At the age of 51, she was determined to go back to college to get her bachelor's degree and she did! My son was born the day she was supposed to walk across the stage and she left the ceremony to be by my side and to meet her first grandson! It was the most special moment of my life. She's been married to our father for more than 30 years and is an example of love that survives even the toughest of times. For 10 years, she was a stay-at-home mom with us while we were young and those are the fondest memories of my life. She sacrificed a lot to pour into our lives and she truly is the most awesome mom. Her heart is pure gold and she sprinkles a little magic and lots of love on everyone she meets. I am so honored to be her daughter and I'd love to be able to show her how honored I am.
LaSonya Young believes she was born to be a mother.
"I know it might sound crazy but I really believe I was born to do this," she said. "I have loved everything about it. That first baby, that first time you smell that breath and it smells like heaven. Then I was hooked. I never felt a difference even as I had more and more. It was never too much. I just adored every stage."
LaSonya and her husband of 32 years, Rick, have six kids ranging from 21 to 31 years old. Her fourth child, Amber, is the one who nominated her in the contest.
"I think all moms are great but what might separate me from a lot of others is the emphasis I put on relationship," LaSonya said. "I really focused a lot of their upbringing on making sure they knew I was always there for them. I put in that investment."
Motherhood for LaSonya meant putting herself second. Although she taught all of her kids the importance of a college education, LaSonya didn't get to finish getting her own degree until her kids were grown.
Aside from having children, LaSonya said she considers her education one of the biggest sources of pride in her life. She worked hard for her degree and said she was thrilled to finally walk across the stage at graduation
Decked out in her cap and gown, standing in a line of graduates waiting to cross the stage, LaSonya learned her daughter Amber had been induced and would deliver her first grandchild soon.
"I was so proud to graduate but there was no way I could just stay there," she said.
She left the school and drove straight to the hospital.
"I never got to walk across the stage," she said "but I wouldn't trade it for the world."
Although she didn't participate in the graduation ceremony, LaSonya has put her degree in marriage and family life education from University of Central Oklahoma to good use. She currently works as the coordinator for a housing program for homeless people and she loved school so much she sees more degrees in her future.
"Trust me, I'll be called Dr. Young one day," she said. "I'll keep going until then."
As important as her education was to her, she said she feels proud that she got to spend most of her adult life staying home raising her kids. She beamed talking about the joy that came from having a big family and getting the opportunity to make great memories with six kids.
But she admits there were tough times, too. She recalled one Thanksgiving in particular that was a difficult season financially. The Thanksgiving meal was bare bones and she couldn't afford anything for dessert. All she had on-hand was a can of store-bought icing and a jar of nuts so in an act of desperation she individually dipped the nuts into the frosting and called it dessert.
"I don't think the kids even realized I was trying to make something out of nothing," she said. "They liked it!"
That, she said, was just one of many little ways she worked to make good memories for her kids. She believes the effort she put in when they were small has led to a strong bond with all her children now that they're grown.
"Being their mom has meant everything. The laughing, the crying, the late nights, the fears you can't speak to anyone else, the immeasurable joy and the unconditional love you can't even explain," she said. "It's all just been the greatest experience of my entire life."
Finalist: Jennifer Putnam
Jennifer Putnam's husband Brian Putnam nominated her: My wife, I have no idea how she does it all. We have three kids- ages 7, 7 and 8. She works full-time as a physician assistant. She loves taking care of other people. She is also an officer in the Army National Guard. She is an Iraq war veteran and actually had to leave her babies when they were 1, 1 and 2. She never misses a baseball game or practice, cheer practice or school function if she can help it. On top of that, she is an online/local wellness coach. She has spent countless hours supporting, motivating and educating other moms on how to get their health and fitness back after having children. She works with stay-at-home moms, other moms of multiples and working moms. She has implemented these changes in our own home as well. She has done everything in her power to teach our children to make healthy choices while still allowing them to have treats. Overall, she is everywhere and everything. Oh, and by the way, she is 45 years old! Yes! She is an over-40 mom of multiples who spends her "free" time helping other moms (most of them much younger than her) get their health, energy and glow back. It is truly remarkable to watch her I will never understand where she gets the energy from or how she manages to juggle it all. If you ever look up the definition for Supermom, I'm pretty sure it is her picture you will see.
It's a little ironic that Jennifer Putnam even ended up in the pool of Awesome Moms nominees considering she spent much of her adult life thinking she'd probably never be a mother.
"I wasn't even sure being a mom was in the cards for me," Putnam said, stunned that she was a finalist in a contest honoring impressive mothers.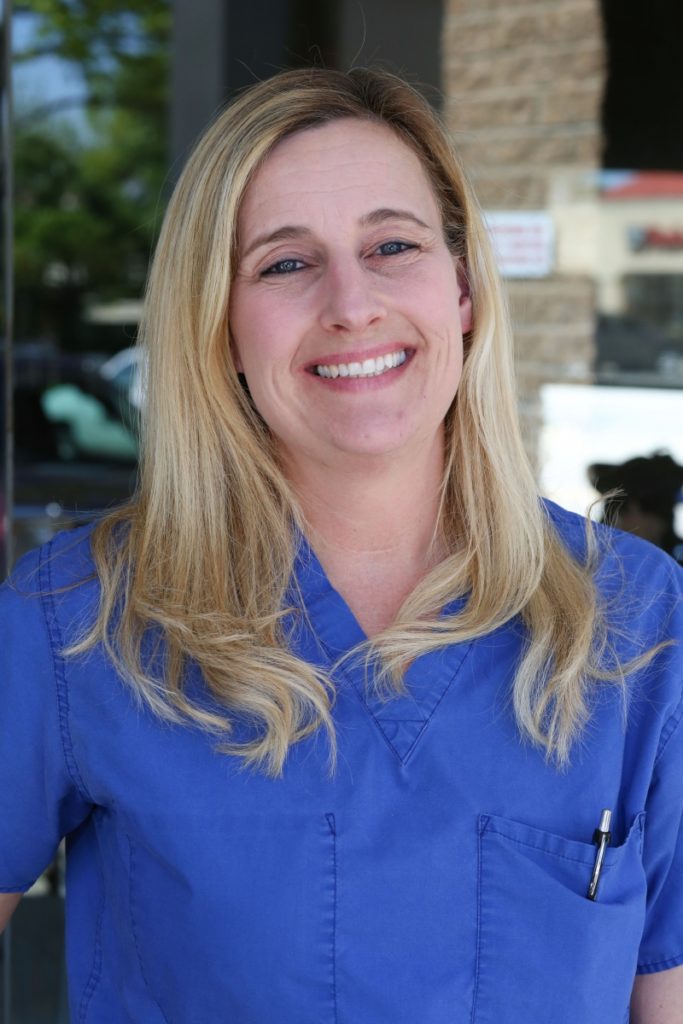 Putnam was 36 when she and her husband Brian got married, she said, and they'd decided they would be fine with or without kids. But a couple years later the couple happily welcomed a daughter.
What happened nine months later probably has a lot to do with why Brian nominated his wife for the contest. They were both in the military and living in Washington D.C. far from family, Jennifer said, when she discovered she was pregnant with twins.
"I literally laid in bed and cried for a couple days," she said. "I was 39 years old and still getting used to having one. I was exhausted all the time and just didn't at all feel like I could do it all over again."
Not only did she "do it all over again" with her twins, but Jennifer faced many challenges in the next few years of motherhood. Five weeks after the twins were born, Brian was deployed and didn't return until right before their first birthday.
"The whole first year was just a blur," she said. "I just survived. I'm certain now I had postpartum depression; I was just too busy to even realize it at the time."
Four months after Brian returned, Jennifer had to deploy to Iraq, an experience she said was "traumatizing" with young kids at home. After being deployed for six months, she returned to her family and discovered she had thyroid cancer. Just after getting her thyroid removed, Brian deployed for another nine months.
"I have compassion for any military family," she said. "But three deployments in four years with the kids so young was just so hard. But we survived."
Now that she's on the other side of a difficult beginning as a mother, Jennifer feels passionate about helping other moms, specifically mothers of multiples. She's an active member of the Edmond Mothers of Multiples group, which she refers to as her "family" and credits them with saving her sanity during her husband's second deployment.
Jennifer works as a brain and spine surgery physician assistant at Community Hospital and is an officer in the Army National Guard. A big chunk of her time, she said, is spent shuffling her kids around to different activities and cheering for them on the sidelines as they play sports.
When she gets free time, Jennifer helps counsel other moms on postpartum health and wellness. She said she feels a special duty to give back to local moms, especially those in the Edmond Mothers of Multiples group, because of how much support and encouragement she's received from others.
She admits motherhood has been a wild ride but one she is so glad she's gotten to experience.
"Your heart opens up and you can't believe how much you can love someone," she said of first becoming a mom. "And when I found out I was pregnant again I felt like I could never fall in love with anyone else the way I fell in love with Avery. I sound like such a dork but your love just multiplies."
Ashlee Terry
Ashlee's friend Cindy Boecking nominated her: Ashlee Terry is the picture of selflessness. Over the past several years, Ashlee and her husband Matt have adopted four little girls from the foster system and are getting ready to adopt a sibling set of five more for a total of nine children! Not very many families will consider adopting large sibling sets but they feel strongly that children that lose their biological family should not have to lose their siblings as well. As a former DHS employee, she has spent most of her adult life working for/caring for children in the foster system. Her heart is truly inspiring. She is an amazing mom to nine children, an inspiring advocate for children in state custody and she's someone who would never expect anything in return. She is more than deserving of this honor!
In a lot of ways, Ashlee Terry is just like most stay-at-home moms. Her days are filled with getting the kids ready for the school bus, making lunches, taking them to baseball practice and going to school for parent-teacher conferences. But unlike most parents, these things take a lot of time considering she has nine children.
"Five of them see a counselor once a week and six of them are in glasses so that alone keeps us pretty busy," she said.
Ashlee and her husband Matt knew foster care was in their future when they met in 2005 as Oklahoma Department of Human Services employees. Little did they know that by opening their house to foster kids they would end up adopting two large sibling groups. But Ashlee said she wouldn't have it any other way.
"You have to be a little bit crazy to do this," she smiled. But I'm pretty sure my family is complete now."
Their kids Evie, Piper, Bella, Desie, Blair, Jose, Aurelia, Beckett and Brooks range in age from 4 to 14. Ashlee said she and Matt knew from early on in their relationship that they wanted to be foster parents. She just didn't know until recently how big their family would get. They started adopting in 2012 and just adopted a group of five siblings last month.
"I've always liked taking care of people," she said. "I've loved doing things for other people and now I just have a lot of kids to do things for."
It was that drive to take care of others that first pushed Ashlee to foster care. Siblings Evie (9), Piper (8) and Bella (7) joined the family in 2011 but then the Terry family temporarily closed their home.
"We were living in The Village and we had one bathroom," she said. "I said when God provided more bathrooms we would take in more children."
In 2015, the family moved out to Peppers Ranch, a community of foster and adoptive families in Guthrie. They now have four and a half bathrooms, Ashlee noted, which is just enough for their family of 11.
Ashlee said she has no idea why Cindy nominated her for the honor of being called an Awesome Mom. But it's clear in meeting the mom of nine that she goes above and beyond to make sure her kids have a better family life than they had before they came to her.
"I try really hard," she said. "I don't always meet expectations but over the past couple years I have tried to adopt a new way of parenting. I try to fully understand what they've been through and think about that in my tone and everything I do."
For example, she said, the older kids see her rock and tuck in the little kids and suddenly realize they never got that when they were that age.
"So it might be odd to other parents to have an older kid say, 'Hey can you tuck me in?'" she said. "But I try to think about their background and just meet their needs wherever they are."
The family has been through a lot, Ashlee said, and she knows there will be hard times. But she said she also wouldn't trade any of it for the feeling she gets when they're all together and she sees that her hard work has made a difference.
"Just seeing your kids being happy and showing kindness to others makes me very proud," she said. "I just love it. There's always excitement and love everywhere."
Many thanks to Downtown OKC Renaissance Hotel and Spa, Mariposa Aesthetics & Laser Center and The Charmed Root for providing prizes to the Awesome Moms winners.