Reading Time:
3
minutes 
We've hit that time of year when it seems nothing can provide enough relief from the heat. Second to air conditioning, an excellent way to distract from the sweltering weather is by enjoying a snow cone. Charming stands churning out shaved ice pop up throughout the Oklahoma City metro every summer.
(Last updated April 19, 2022)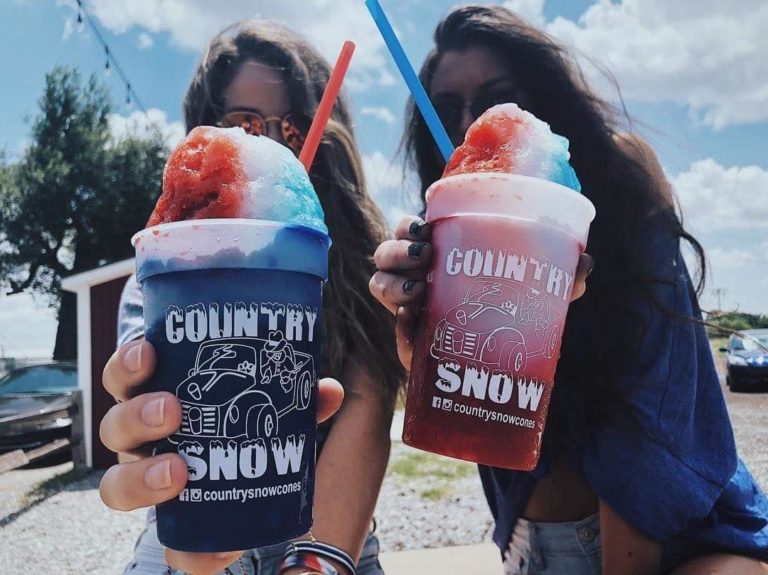 Two locations: 17905 N MacArthur Blvd, Edmond & 100 Monroe Ave NW, Piedmont
Why we love it: This stand serves up both traditional snow cone flavors like Tiger's Blood, Bahama Mama and Cotton Candy, plus unique options like Dill Pickle, Yellow Cake Batter and Key Lime Pie, as well as a fun array of toppings like gummy bears, Nerds, sprinkles, Sour Patch Kids and even ice cream.
7 NW 9th St, Oklahoma City
Why We Love It: Katiebug's has become an Oklahoma City staple for their all-natural syrups in unique, rotating flavors like vanilla bean cinnamon roll and cardamom rose. In addition to having a trailer that pops up at special events throughout the metro, they've got a permanent location in Automobile Alley, making it easier than ever to get your shaved ice fix during the summer months.
NW 16 St & Reno Ave
Why We Love It: Enjoy a sweet treat that gives back! This snow cone stand employs low-income and transitional youth providing supportive employment opportunities and financial literacy for long-term economic success.
Why We Love It: They don't have a permanent location, but you can find this mobile snow slinger at popular food truck events throughout the Oklahoma City metro. The menu features shaved ice with all the traditional syrups and a wide variety of s'mores, but our favorite is the S'more Cone, a delightful combination of shaved ice and ice cream topped with chocolate drizzle and a graham cracker. Visit them at twitter.com/snowsmore to find their truck.
1325 N. Janeway, Moore
Why We Love It: This is a favorite spot in the metro to pick up a giant snowball dripping with flavorful syrup. It's a great place to try out one-of-a-kind flavors if you want to get away from the traditional options. Favorites include blueberry cheesecake and spearmint. Make it a real summer celebration by ordering your shaved ice in a hollowed-out pineapple!
9227 N May Ave
Why We Love It: Have you ever had a stuffed snow cone? At the Ice Shop, you can up your snow cone game with vanilla ice cream, coconut gelato or mango sorbet stuffed inside your shaved ice! They have unique creations like the Fineapple or Oklahoma Sunset, plus 40-plus flavors so you can create your own unique masterpiece.
Multiple locations throughout the metro
Why We Love It: These snow cone stands have created a strong following by going totally over-the-top in dressing up the traditional shaved ice. Order a classic flavor and get it topped with an assortment of candy or go big and order the strawberry cheesecake shaved ice that comes topped with a strawberry and a real piece of cheesecake.
[Editor's Note: Find our list of reader recommended snow cone stands at www.metrofamilymagazine.com/snowcones.]