Explore Oklahoma's diverse landscape from a completely new view! Climb aboard one of these exhilarating adventures and sail high off the ground with a bird's eye view of some of Oklahoma's most picturesque scenery.
Editor's Note: Zip lining requires certain physical restrictions and those vary based on each venue's specialized equipment. Please call ahead to learn more.
Close to Home: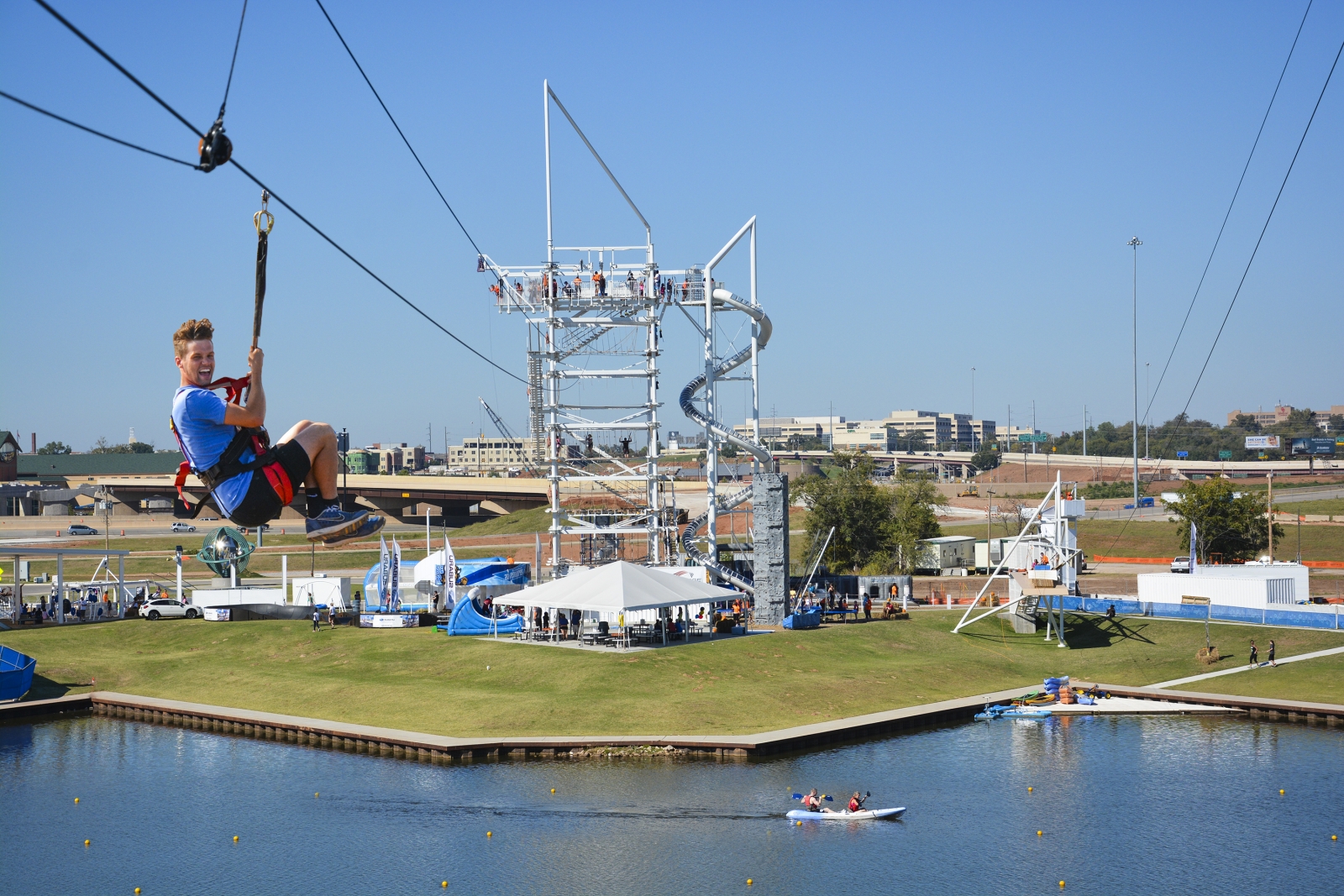 SandRidge Sky Zip – http://www.riversportokc.org/boathouse-district/adventures/zip-lines/
800 RIVERSPORT Dr, Oklahoma City; 552-4040
Price: $19 & up
Height requirement: 48″ minimum
Fly across the Oklahoma River on the SandRidge Sky Zip! Take in exhilarating views as you cruise from the 80-foot tall SandRidge Sky Trail and back again.
RIVERSPORT Adventures at Lake Overholser – www.riversportokc.org/lake-overholser/riversport-adventures/zip-line/
3115 E Overholser Dr, Oklahoma City; 552-4040
Price: $29
For ages 10 & up
Race a friend on a double zip line across Lake Overholser. The 300-foot zip line stretches across the lake offering visitors an exciting way to sightsee.
Worth the Drive:
777 Zip Line – www.turnerfallszip.com
U.S. 77 S, Davis; 580-369-0103
Price: $12.50
Height requirement: 42″ minimum with guardian
Look down upon Oklahoma's largest waterfall from aboard a unique seatbelt restraint system. Cruising at heights of up to 1,444 feet above the ground, this all-ages ride hoists guests high above Collings Castle and sends them zipping down 777 feet to an overlook of Turner Falls.
Air Donkey Zipline Adventures – www.airdonkeyzipline.com
2160 Dolese Rd, Davis; 580-369-5010
Price: $75
For ages 10 & up
Six different zip lines, including Oklahoma's longest zip line, and one sky bridge let guests soar through the trees tops of the Arbuckle Mountains on a more-than-a-mile canopy tour. Tours last about two hours.
Post Oak Lodge & Retreat – www.postoaklodge.com/zipline-tours/
5323 W 31st St N, Tulsa; 918-425-2112
Price: $79; kids (10-15), $69
For ages 10 & up
On a journey more than ten football fields in length, guests sail from platform to platform for a high-flying trek above Persimmon Ridge in the Osage Hills.
Rugaru Adventures – www.rugaruadventures.com
2658 Steven's Gap Rd, Broken Bow; 580-494-2947
Price: $79
Weight restrictions: 70 – 250 lbs
Zip through the towering canopies of the Ouachita Mountains on a more than half-mile journey through Beavers Bend State Park. Cruising on six different lines, the thrilling tour reaches speed of up to 30 mph and heights of up to 60 feet, ending with a trip across Broken Bow Lake. Tours last about two hours.
Find even more family adventures in our many Exploring Oklahoma features.